We're in The Herts Advertiser💜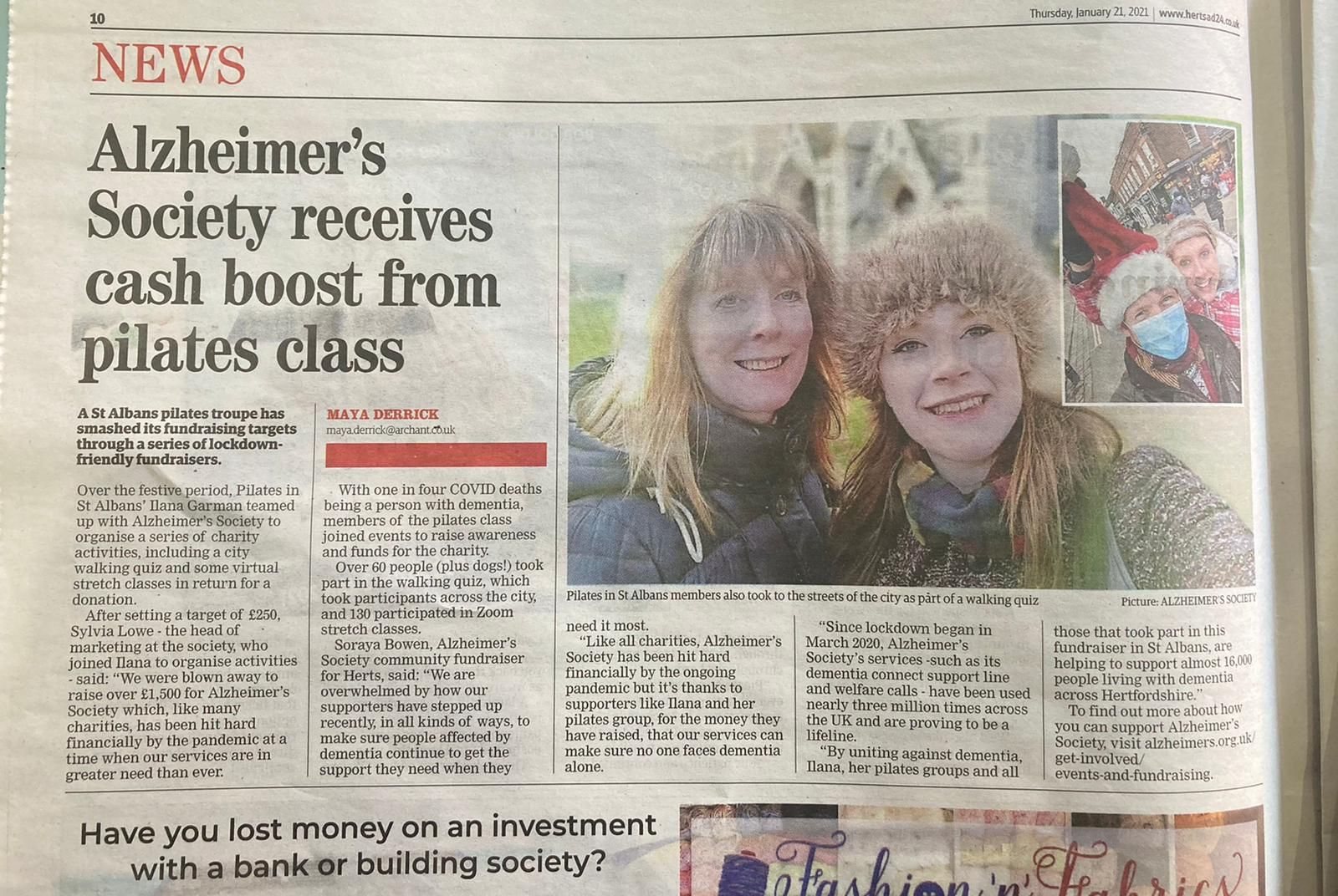 Over £1500 for Alzheimer's Society💜
✔️ Over 130 Pilathletes attended our 4 Pilates Stretch Classes
✔️ Over 60 took part in the Pilates in St Albans City Walking Quiz (and 🐾🐾)
✔️ Our worthy winners are 'The Winters' whose photos were hysterical
✔️ We (Sylvia & Ilana) are chuffed to bits with £1505 🤩🤩 donated to Alzheimer's Society

😍😍Thank you so much for your kindness & generosity.
10 January 2021
WOW £1465 for Alzheimer's Society💜
✔️ 130 amazing individuals from the Pilates in St Albans community, from all around the UK, joined in...
✔️ 4 x Xmas & New Year STRETCH Classes
✔️ We (Sylvia & Ilana) are chuffed to bits with £1465 🤩🤩 donated to Alzheimer's Society

😍😍Thank you so much for your kindness & generosity.
4 January 2021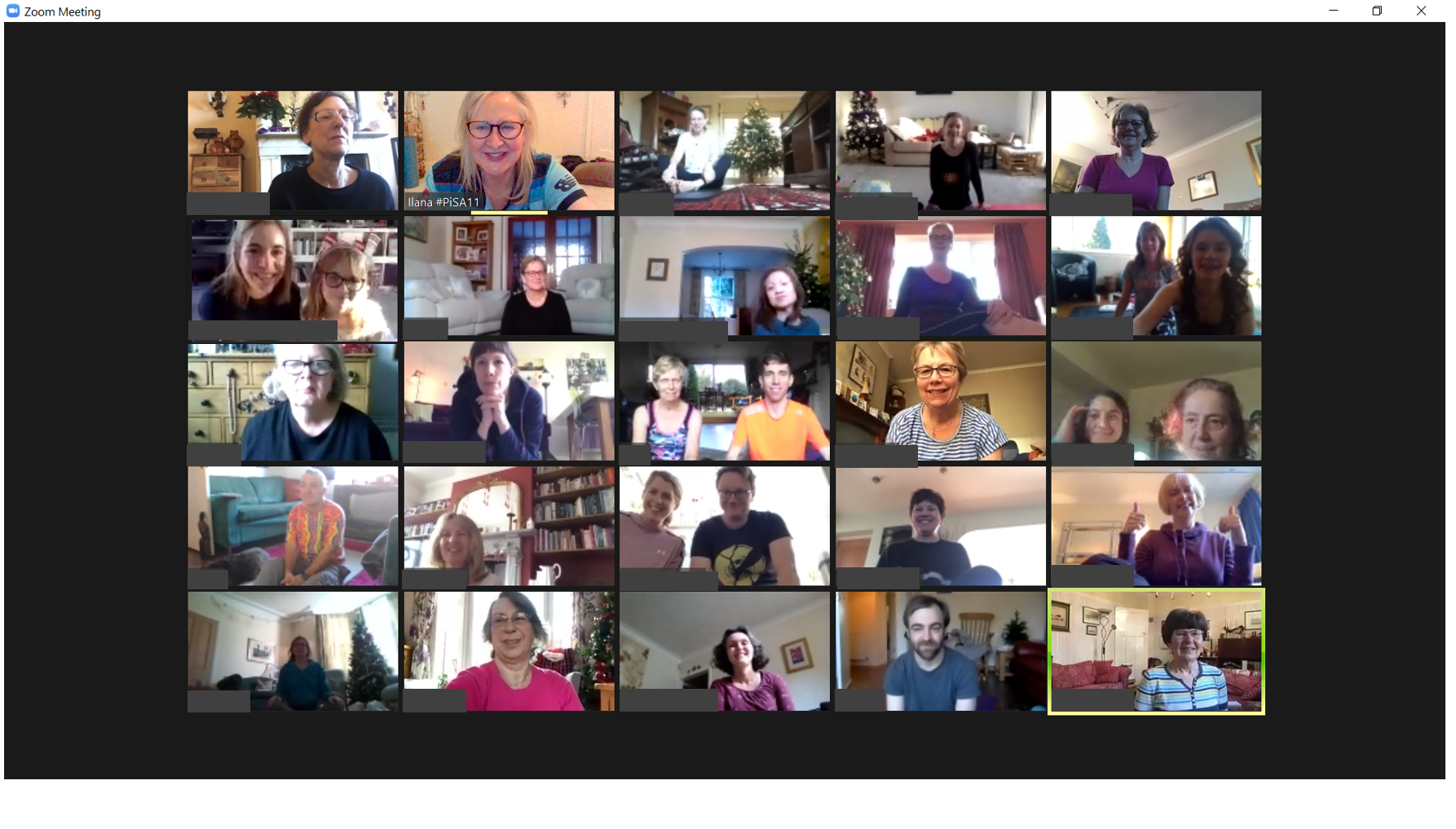 Robin came to his 1st Pilates class 💜
Let me introduce you to Claire's new cat - his name is Robin, he's 8 weeks old, a whole 750g, tiny, super cute and joined us today in class.
Robin very much enjoyed his first Pilates class. He found the core work a little challenging so had to, half way through, take a mat nap. (He's too young for a cat nap). However, he had another go and found the c-shaped roll down, with accompanying cat stretch, really easy.
14 December 2020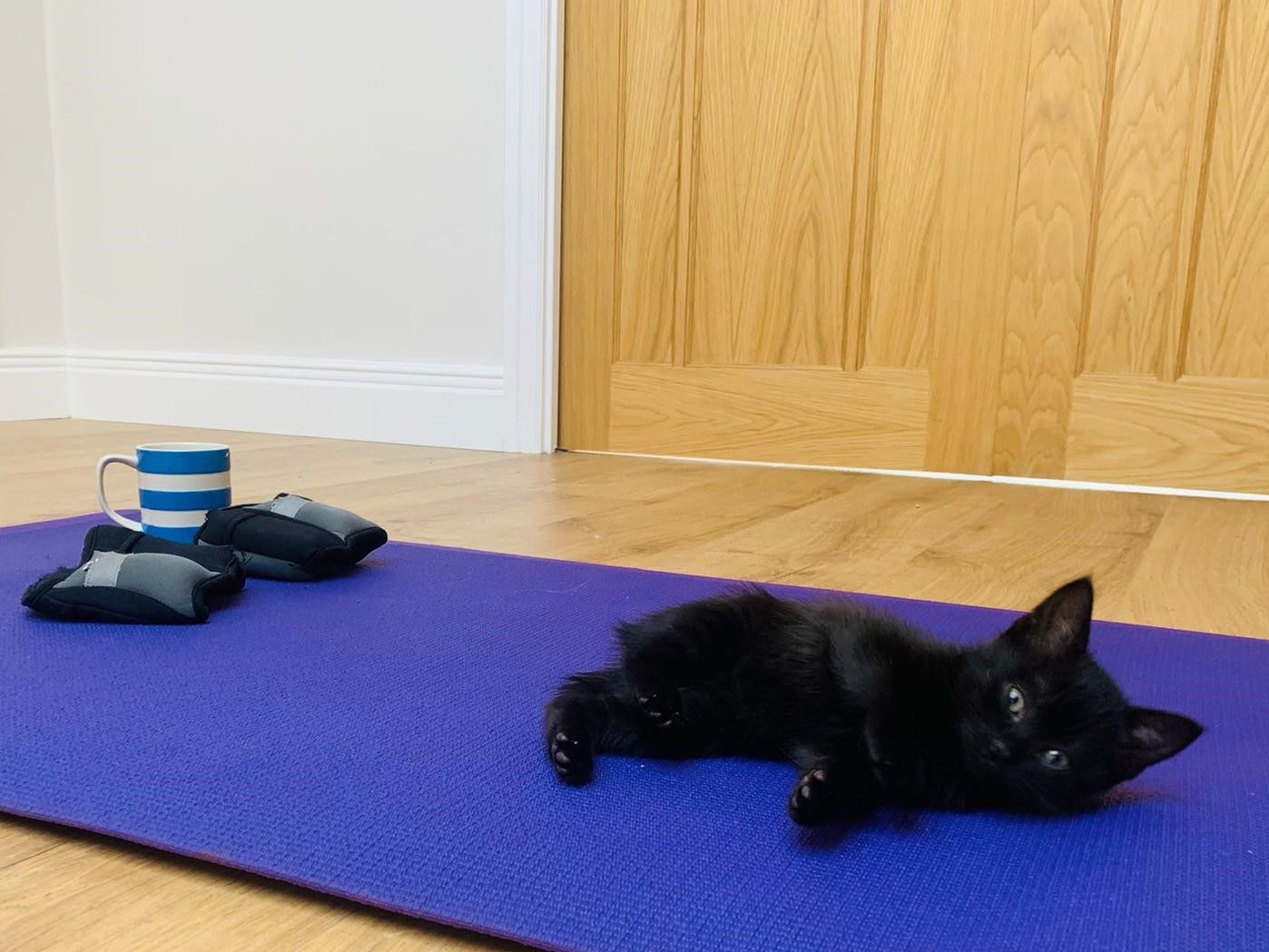 Happy Birthday Joseph Hubertus Pilates
Joseph H. Pilates's birthday was born on 9 December 1883 in Germany.
A sickly child he was introduced by his Greek father to gymnastics, body-building, and martial arts and boxing. He worked hard using these skills to improve his own body condition - based on good posture and lifestyle, combined with effective breathing.
He devised a series of exercises and training techniques and equipment to teach his methods.
He worked as a bodybuilder, boxer, even as a circus performer. He taught self-defence and helped injured soldiers with rehabilitation techniques.
In the mid 1920s he travelled to the USA. where he and his wife became popular trainers, focusing on flexibility, strength and stamina. They gained a reputation working with famous dancers, and injured ballet dancers who required rehabilitation techniques. Soon even the rich socialites joined in at the Pilates studio with regular classes.
Pilates wrote about his methods which he referred to as Contrology. He died in 1967 in New York of advanced emphysema, aged 83.
Pilates continues to be taught and is estimated that nearly 10 million people regularly study Pilates in the USA each year. Accurate figures in the UK seem hard to find but over 50 years after he died, Pilates classes continue in nearly every town and city in the UK.
9 December 2020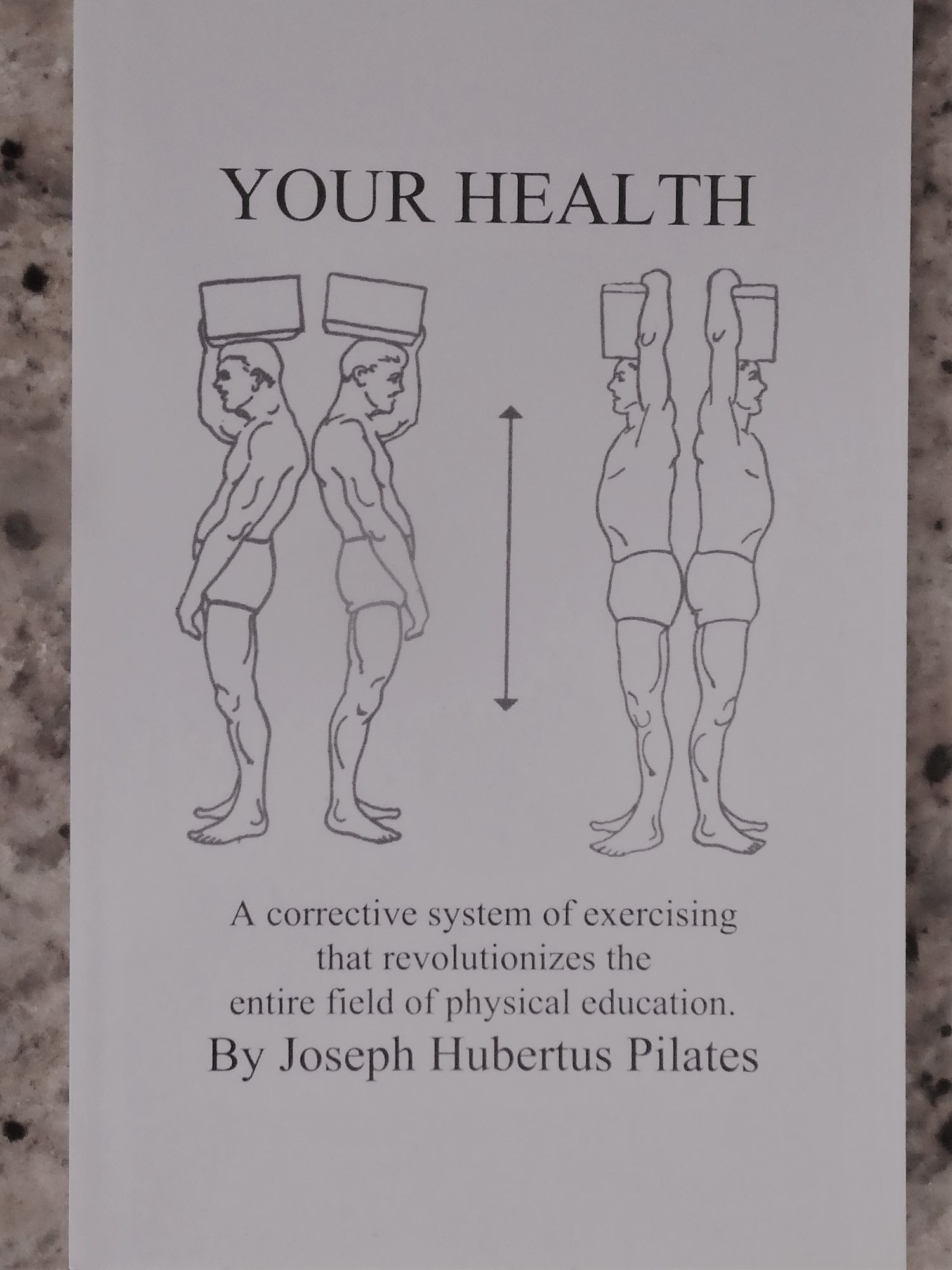 For details of our 'comfortable'and 'stylish' face masks, and how to order masks, click here.
27 November 2020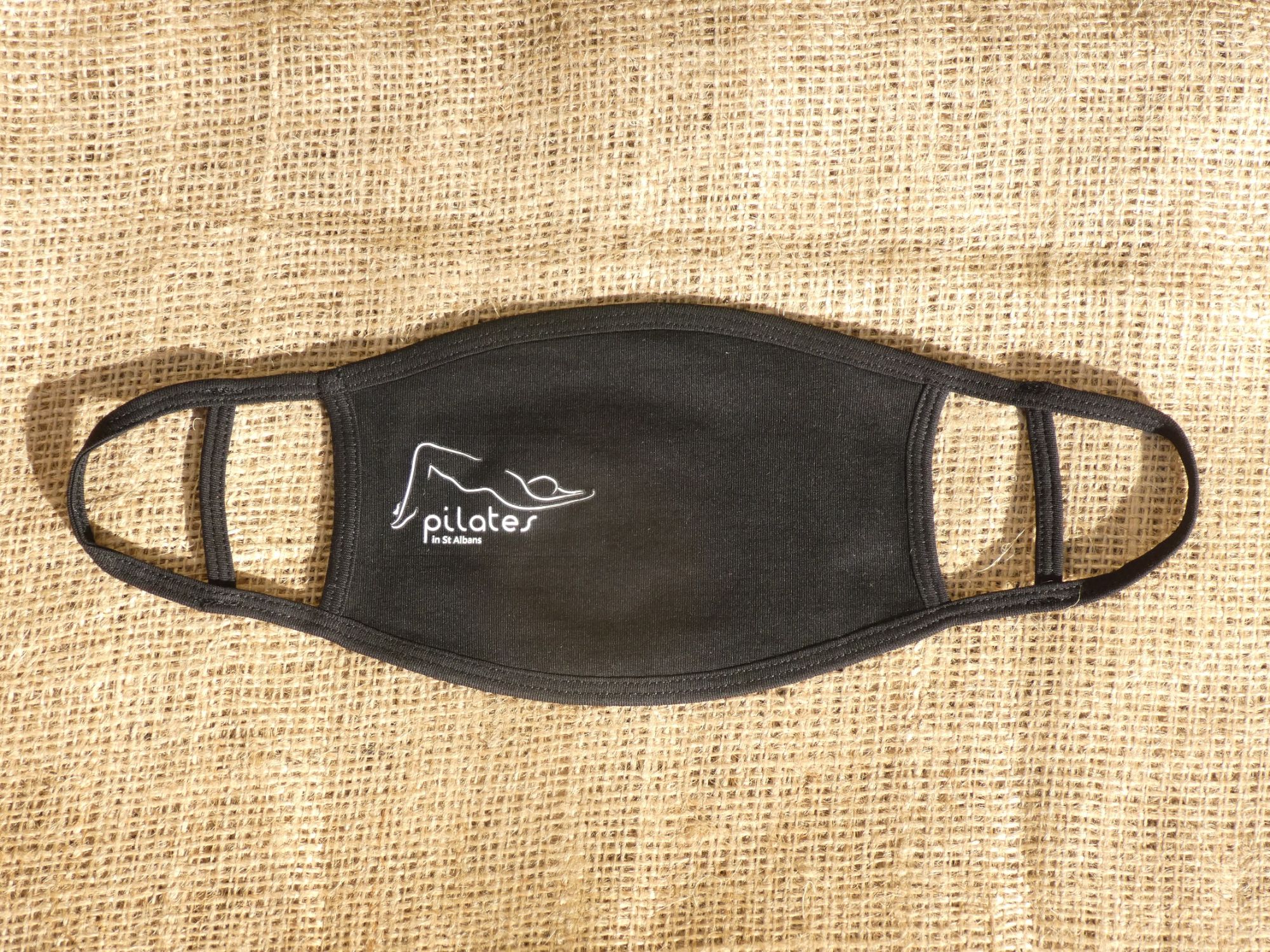 How To Get A Good Nights Sleep
Aim for 7-9 hours/night
Don't eat before bed – leave 3 hrs between food & bed
Regular routine for both bedtime & wake up time
Prepare by winding down & relaxing
Avoid caffeine before bed – leave 7 hrs between caffeine and bed
Comfortable room; good temperature, dark, quiet
Avoid devices/screens
Think happy thoughts
Sleep is good for your health; helps you fight disease, good for your wellbeing, aids cognition, and clears your brain of unwanted neurochemicals.
20 November 2020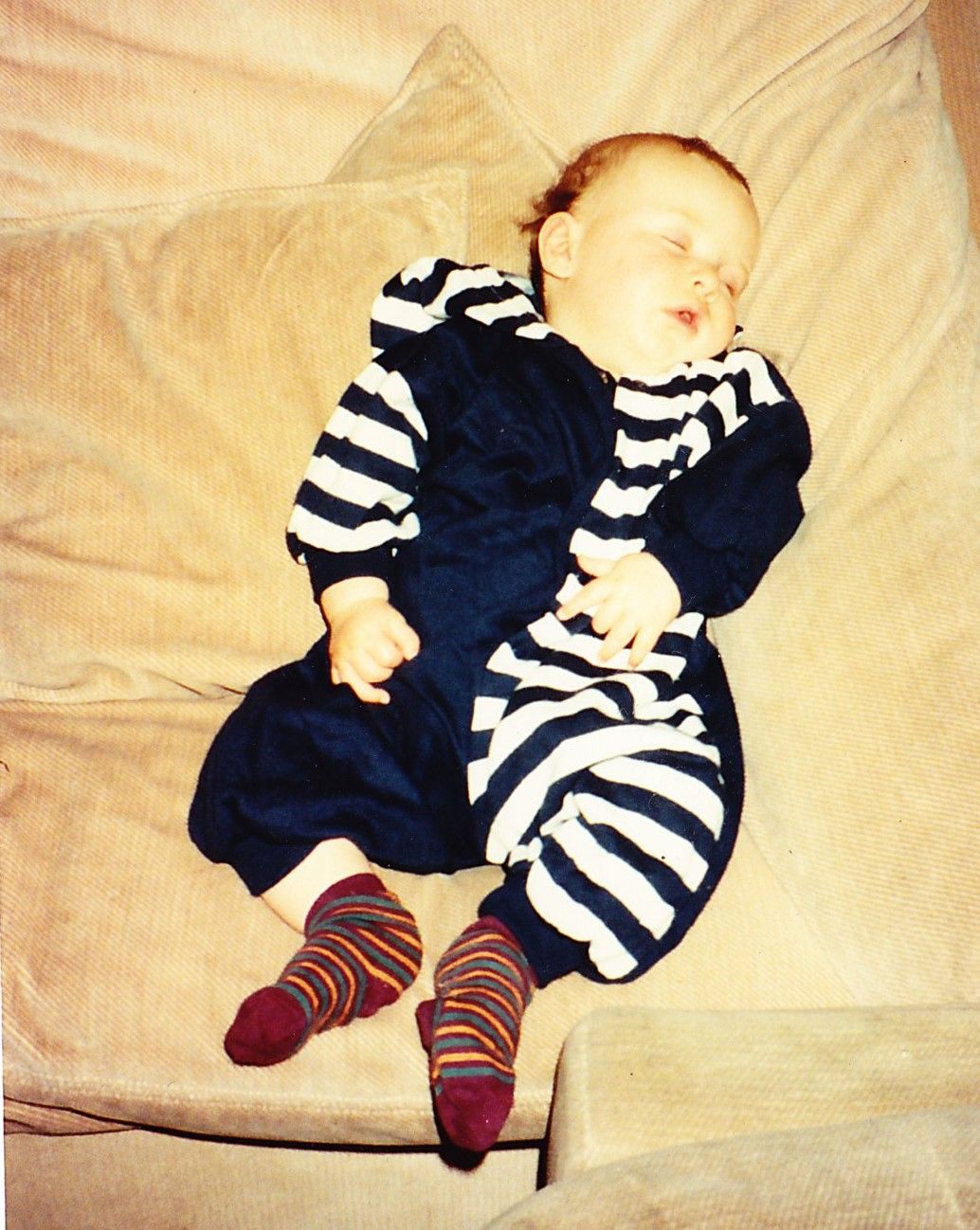 - Dogs 🐕 sleep between 12 – 14 hrs per 24 hrs
- Cats 🐺 sleep between 12 – 16 hrs per 24 hrs
- Horses 🐴 sleep just over 2 hrs a day.
- The longest sleepers are the large hairy armadillo at 20.4 hrs and the little pocket mouse at 20.1 hrs
#sleepwell #sleepmatters #needyoursleep #letsleepingdogslie
15 November 2020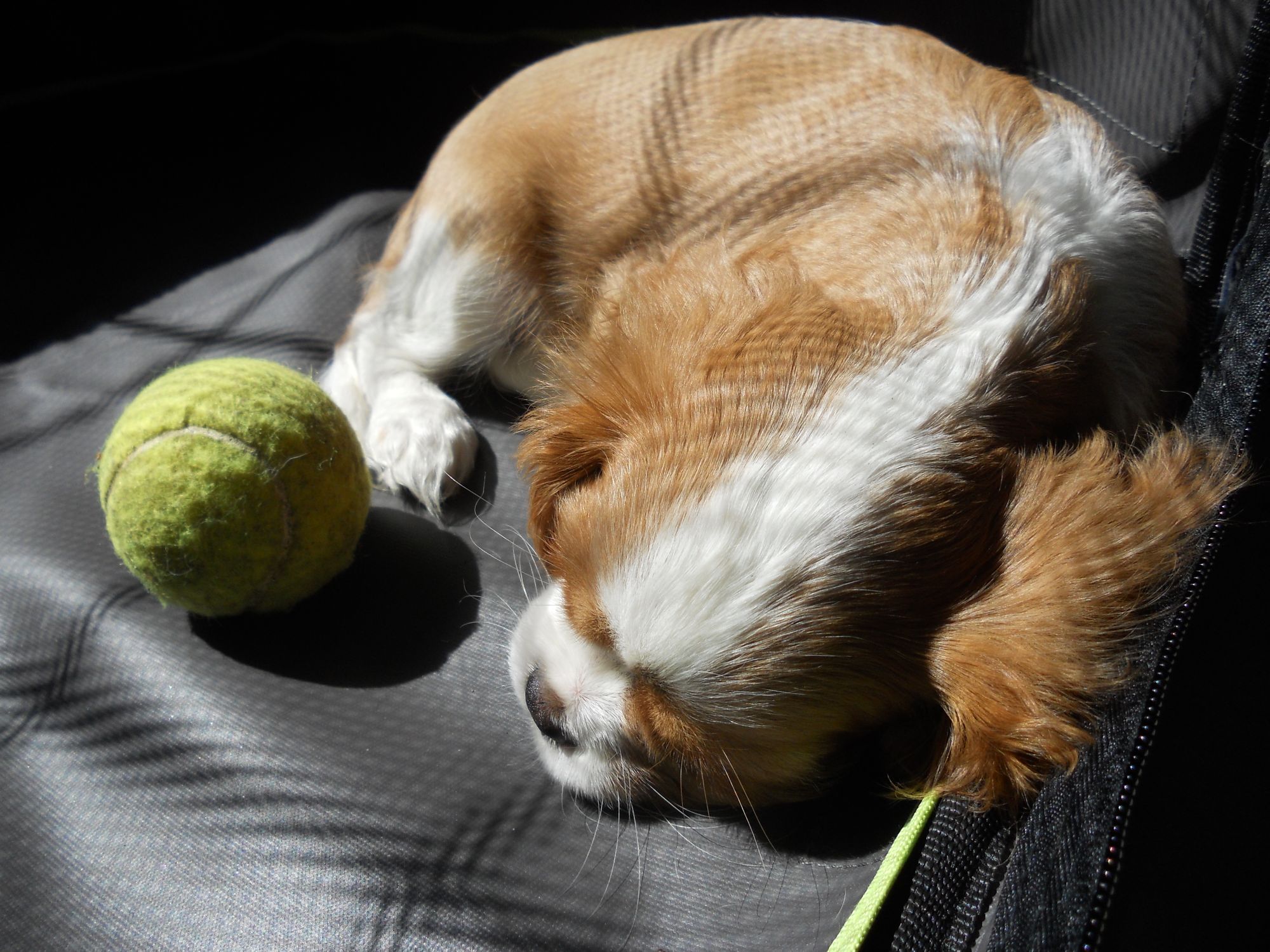 How to Help Your Back Pain
Back pain is very common and usually improves within a few weeks or months. (80% of people in the UK are affected by back pain at some point in their lives). Please share with friends with back pain.
10 November 2020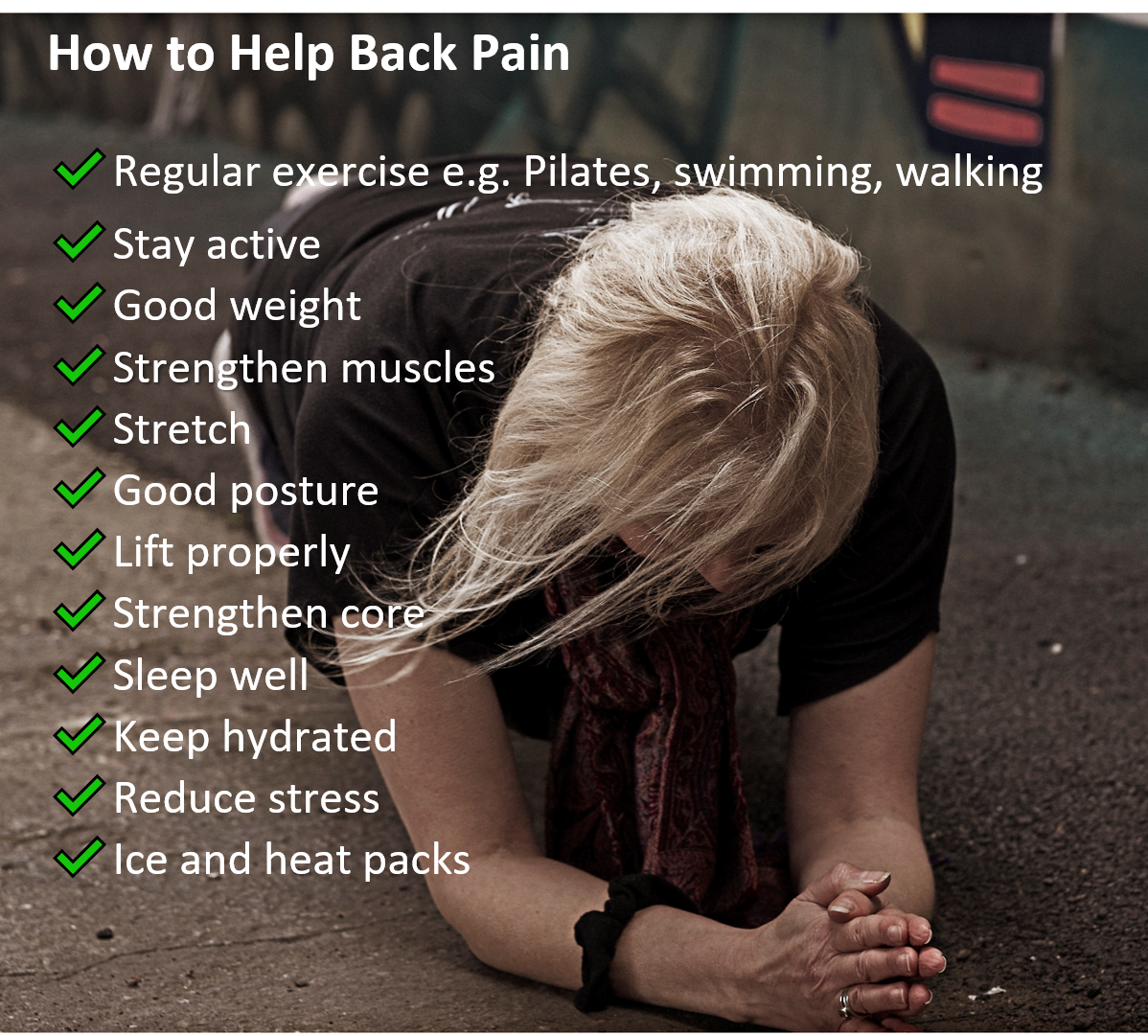 Spine chilling Stretch Class
Get ready for your Stretch Class at 10am Saturday 31 October.💀 Don't be afraid. 🦇 Frighteningly relaxing, spine chilling, bone rattling..... see you scare!👻
31 October 2020 🎃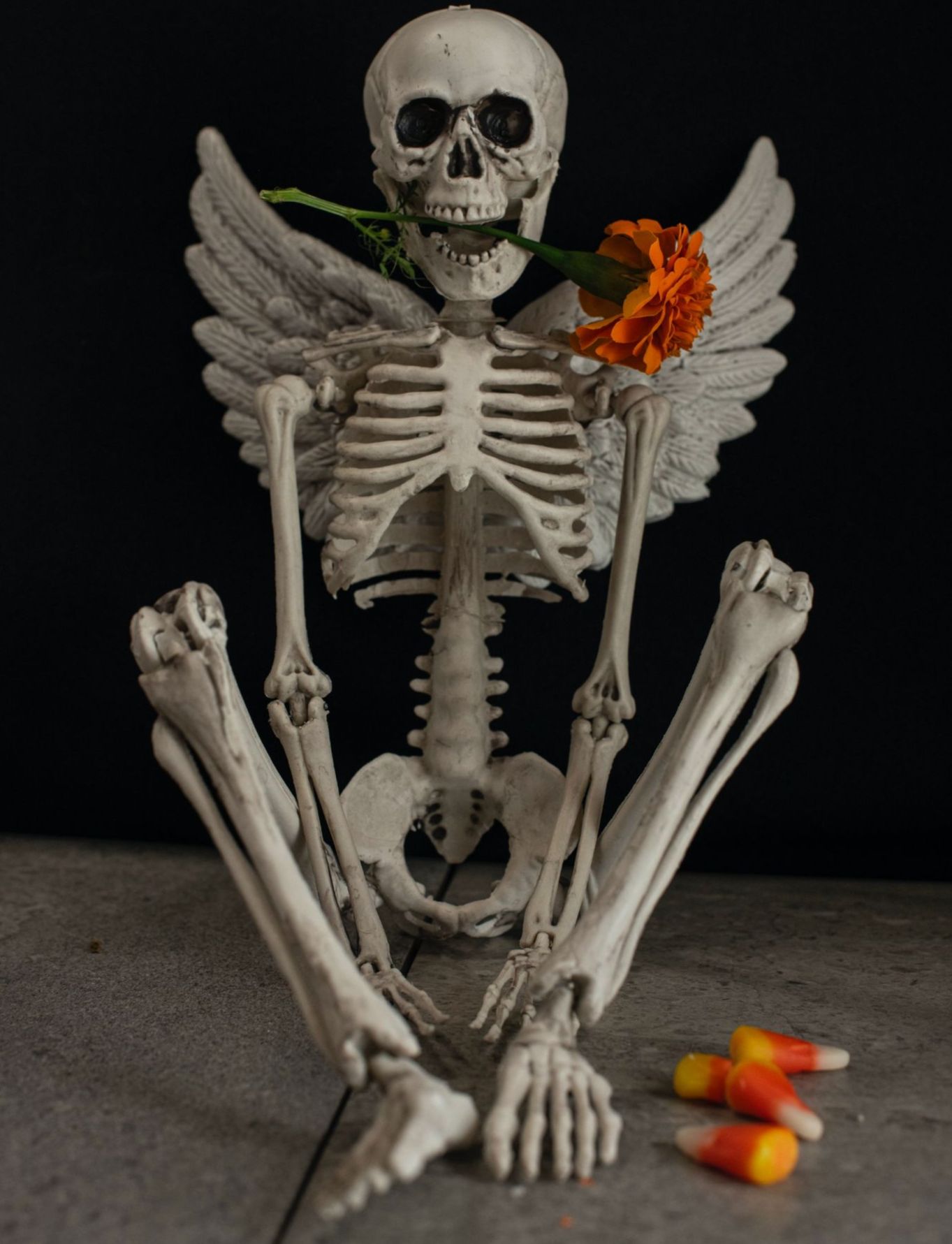 It was Max's first class today!. He is only a month old and his mum and grandma introduced him to us all today. What a complete cutie!
28 October 2020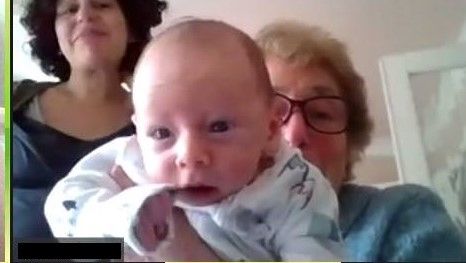 - Back pain is very common and usually improves within a few weeks or months.
- Up to 8 in every 10 people in the UK are affected by back pain at some point in their lives.
- Most back pain is experienced in the lower back. This is because the lower back is constantly twisting and stretching. Some scientists believe that back pain is due to evolution, and it may not be preventable.
- A slipped or prolapsed disc is where some of the disc's softer jelly-like middle (the nucleus pulposus) bulges out (herniates) through a weakness in the outer part of the disc. The bulging disc may press on nearby structures such as a nerve. Some inflammation develops which also may irritate a nerve. The most common age to develop a prolapsed disc is between 30 and 50 years. Twice as many men as women are affected. It is estimated that 1 to 5% of all people will have a prolapsed disc in their life.
- Sciatica is irritation of the nerve that runs from the pelvis to the feet. As many as 40% of people will get it during their life, and it becomes more frequent as you age.
- If you have back pain, stay as active as possible, resting for long periods is likely to make the pain worse.
27 October 2020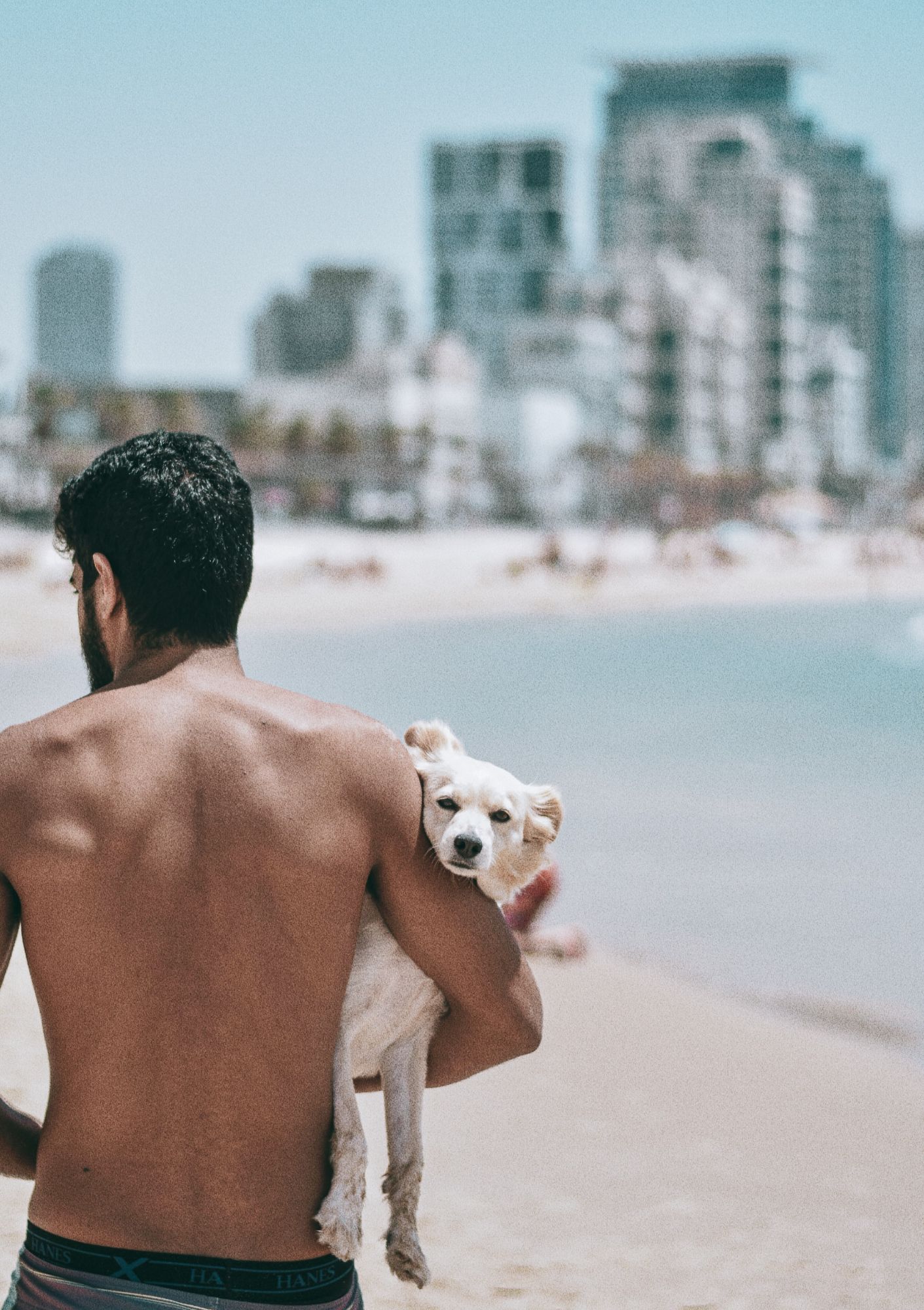 -We are taller in the morning. During normal activities, during the day, the cartilage in our spine slowly compresses. When you go to sleep, and rest, the cartilage goes back to normal.

-The spine has approximately 33 bones, called vertebrae, which are separated by intervertebral discs.

-The spine has over 120 muscles, which is why we are so flexible.

-Baby 👶 spines begin developing just 2 months after conception.

-The spine is very 💪, it can support hundreds of kilograms of weight.
20 October 2020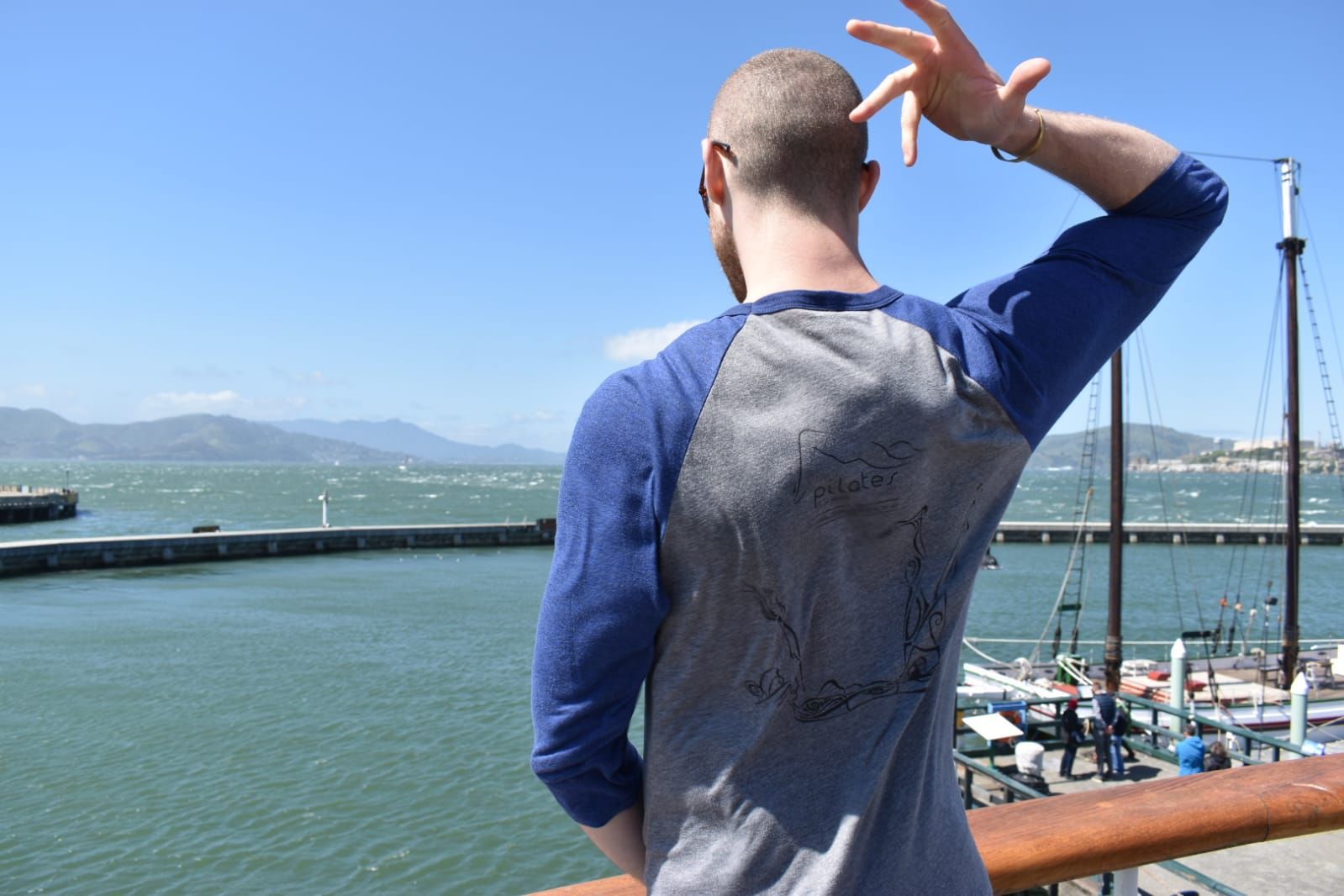 Admittedly we are talking about a nearly full tin of treacle, a few years past its expiry date, and unopened for years. I had done some checks and seemingly old tins of treacle can explode. Opened it carefully and…. it did... all over my kitchen ceiling.
Still tastes like great treacle.
Made a really easy treacle cake 🍰 which I'm thinking of calling Exploding 💣 Treacle Cake. Finished off the last piece today with a cup of coffee ☕ .
10 October 2020
🐍Snakes have between 200-400 vertebrae, most with ribs attached, providing strength and mobility.

🦓 Zebras backs are too small and not strong enough to carry weight on their backs.

🐅 A domestic cat twists its flexible spine when it falls, to land on its feet.
The hero shrews, of the Congo Basin, have unusual interlocking vertebrae making their backs extremely strong.

🐘 Instead of smooth, round spinal discs, elephants have sharp bony protrusions that extend upwards from their spine making them unsuitable to carry anything on their backs.
1 October 2020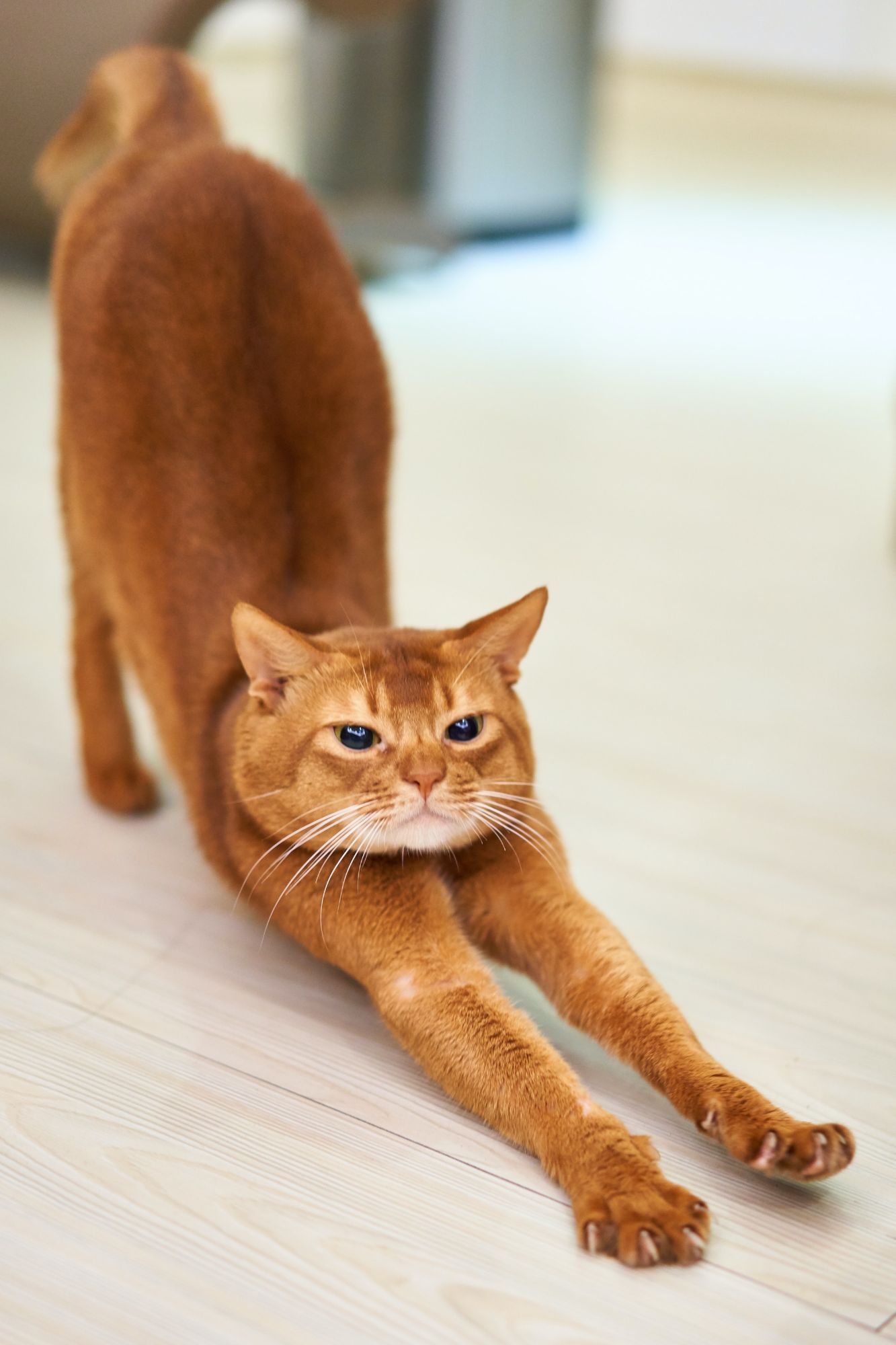 Quarantined RVC International Students take online Pilates classes
Really enjoyed meeting this year's international RVC students. Whilst they were in quarantine it was a joy to take a couple of Pilates/Stretch classes, over Zoom, with some quiz questions thrown in.

There's a crime scene. What non primate leaves fingerprints, that have been confused with human fingerprints?
26 September 2020
Whose Knees Are These: Knees & Winners
Thank you for all your entries to our 11th Birthday Quiz, Whose Knees Are These.
The answers didn't cause you too much trouble. The toughest picture was the grey squirrel. Some people thought it was a meerkat, some a lemur. The lion was a youngster, the giraffe was a Rothschild, then African elephant, Ben Stokes at Day 4 Headingley Eng vs Aus 2019, me as a bridesmaid, unknown age (nothing has changed).

Well done everybody who entered. Congratulations to our winners; EH came first and will be receiving our Scottish gin and RB is our runner up and will receive a bottle of wine.
16 September 2020
This is our 11th Birthday Quiz.... Whose Knees Are These?
To celebrate our 11th Birthday, which is on Monday 7 September 2020, we are having a quiz.
Just let me know from these 7 pictures, Whose knees are these? To have a chance of winning, please email me your detailed answers by Tuesday 15 September 2020. (Pilates in St Albans current customers only).
Our winner will receive a bottle of birthday gin.


4 September 2020
- Babies kneecaps become bone, (previously cartilage), between 2 and 6 yo.
- The knee is a hinge joint with slight rotation as it moves.
- The quadricep muscles contract to straighten the leg.
- The hamstring muscles contract, allowing the leg to bend at the knee.
- Noisy knees (snap, crackle and pop noises) when you bend, straighten, walk down or uphill, can be quite common.
- Osgood–Schlatter disease is inflammation of the patellar ligament. It is characterised by a painful bump just below the knee that is worse with activity and better with rest. About 4% of people are affected at some point in time. Males between the ages of 10 and 15 are most often affected.
- Walking causes femorotibial peak forces of 261% body weight and descending stairs up to 346% of body weight. Knee loading can increase up to 550% body weight during sudden balance loss, showing the importance of the interaction of the muscles.
31 August 2020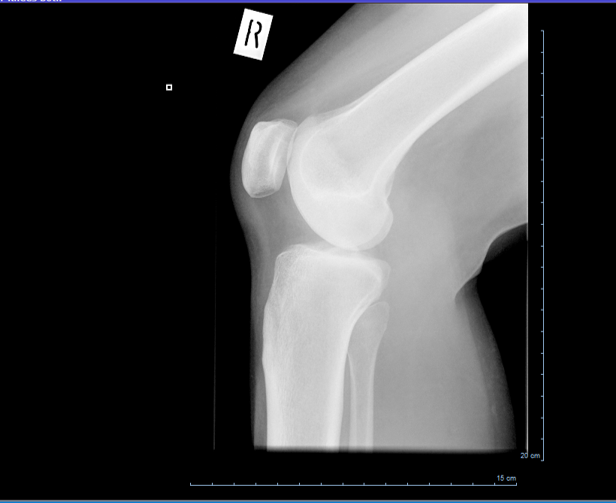 50 Pilates 50 Stretch - A great way to start or finish Bank Holiday Monday
50 Pilates 50 Stretch is a new concept 💜 for a class that we are launching this Bank Holiday Monday, 31 August. Taking the exercises we do in Pilates, which focus on core strength 💪 & controlled flowing technique, & combining these with relaxing stretches 🧘‍♂‍. What a great way of starting or finishing your Bank Holiday.
28 August 2020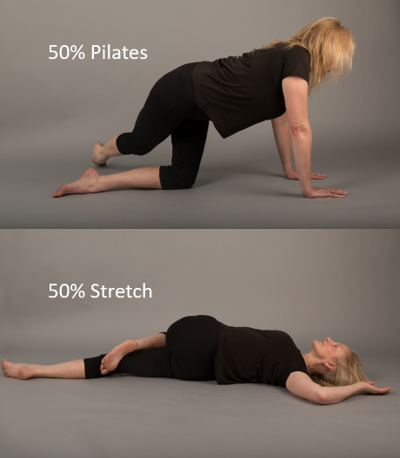 Ostriches have a double kneecap in each leg.
Four legged mammals have two knees and two elbows.
Grasshoppers and crickets have their ears on their knees.
Horses can sleep whilst standing using their stay apparatus, which is a group of ligaments, tendons and muscles which lock major joints in their limbs.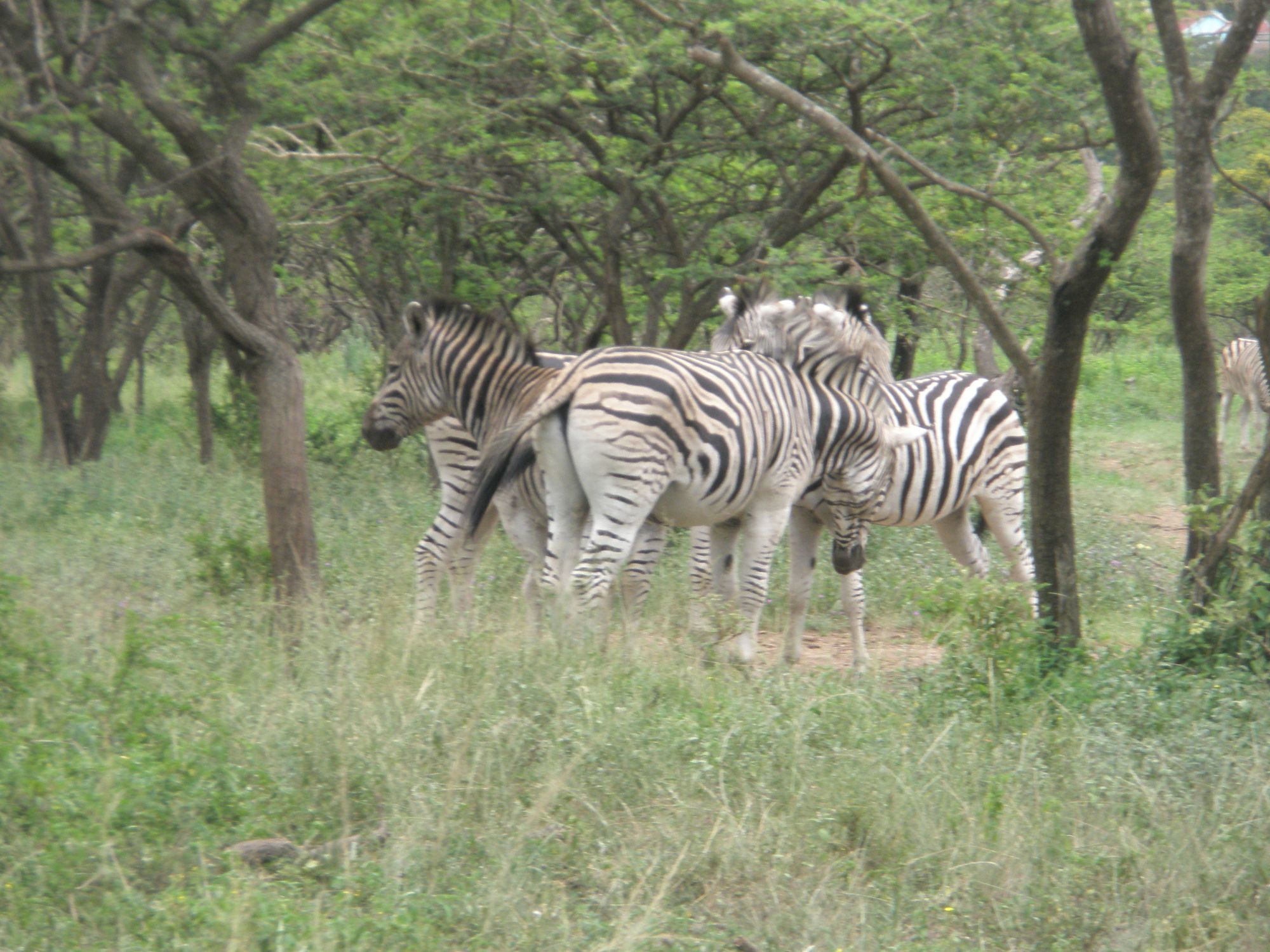 Five months ago, having a Pilates 🧘 class with our friends, in a local hall, was an everyday occurrence. Yesterday we did that again and it was amazing. We even sat and chatted ☕ in the park afterwards. Thank you for being part of this special day and thank you to those of you who joined us over Zoom.
14 August 2020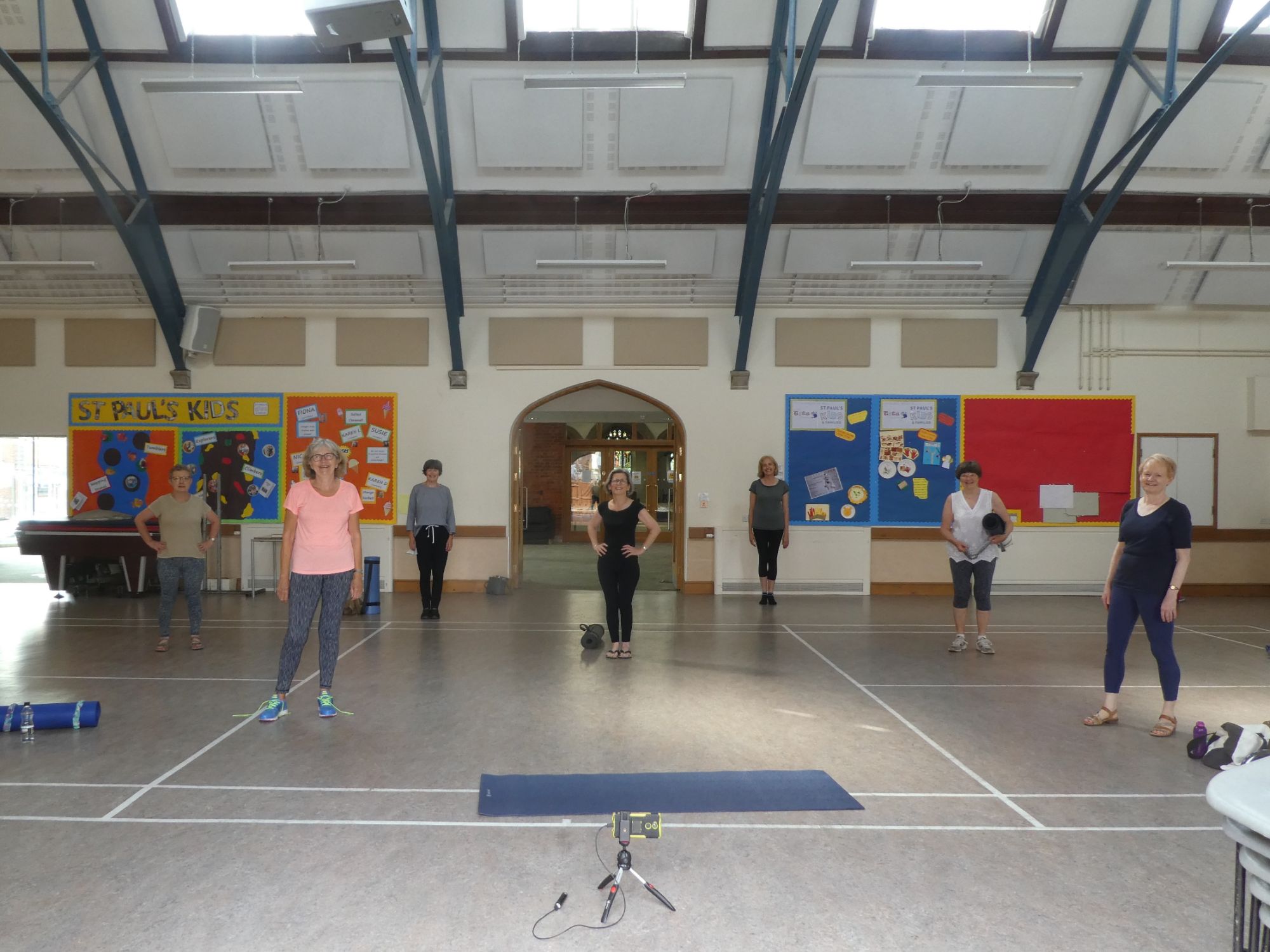 Our necks are so important in everything we do. Lots of people have been concerned as they work all day leaning over kitchen tables or slouching on the settee. You may enjoy our Pilates stretch classes which focus on the whole body but especially the neck and back. Pilates is good for focussing on posture and making sure the muscles in your neck and upper body are strengthened to assist in supporting your head.
#releaseyour neck #wfh #goodposture #supportyourneck '#stretchyourneck #strenthenyourneck #pilatesneck #stretchclasses
4 August 2020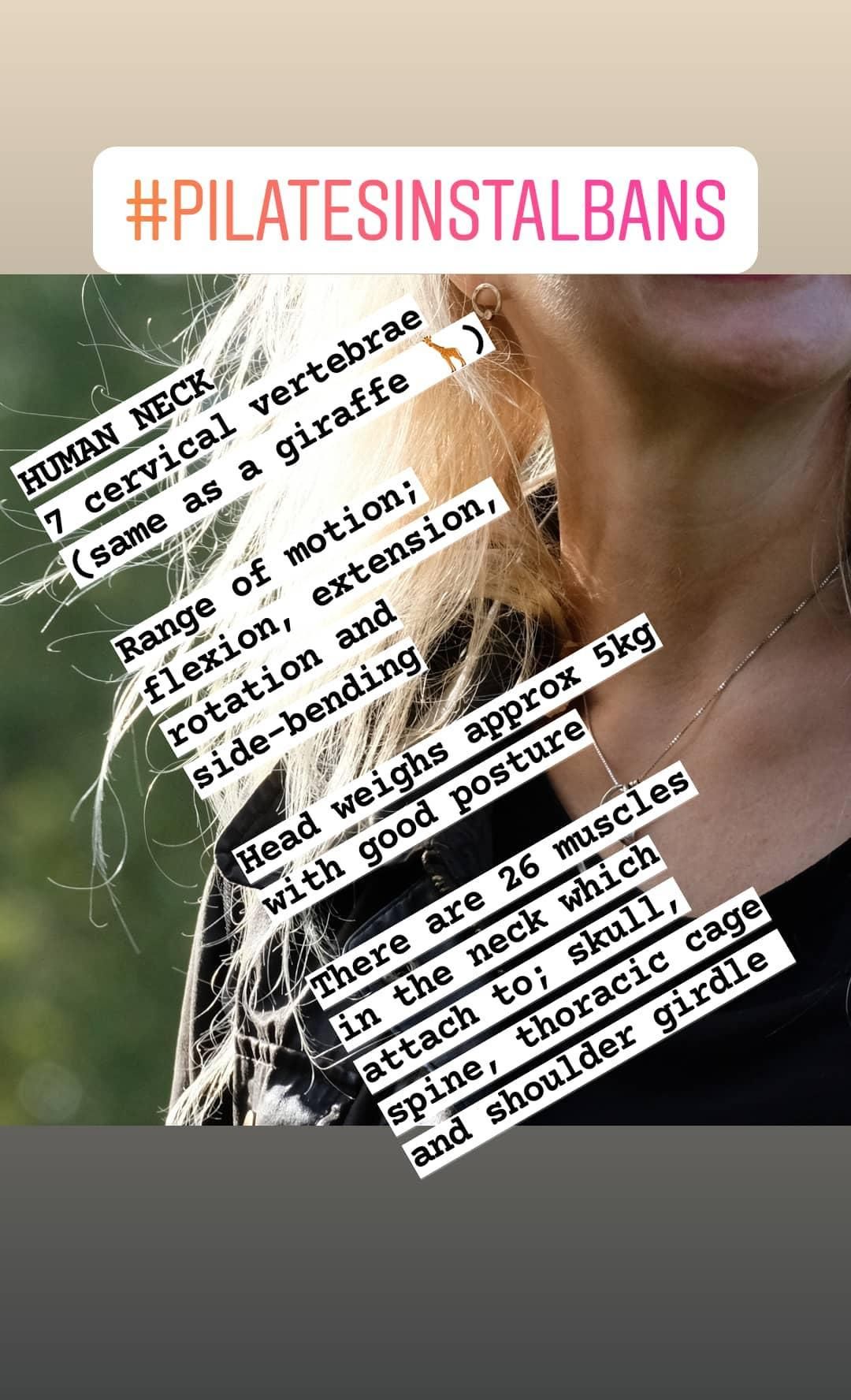 Thursday morning 13 August WE'RE in a HALL!!!
Just confirmed that we can have a Pilates 🧘 class, at St Paul's, next week! We will also be on Zoom. (Full details of how to attend, in your weekly pass email).
4 August 2020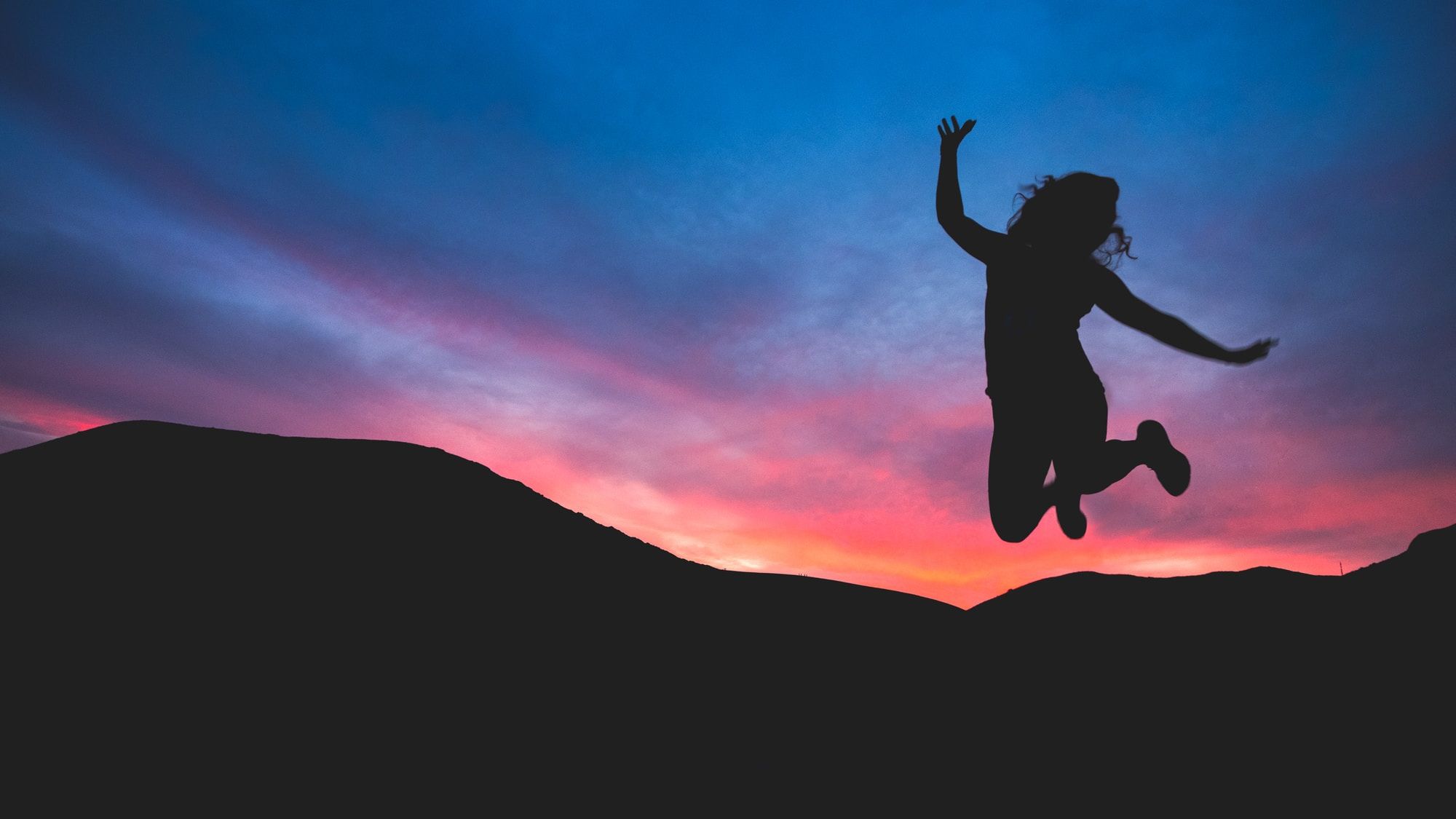 Giraffe neck anatomy and motion are incredibly interesting. Photograph taken at the Elephant Bedroom Camp, Samburu, Kenya a while back. A seriously awesome place to visit.
31 July 2020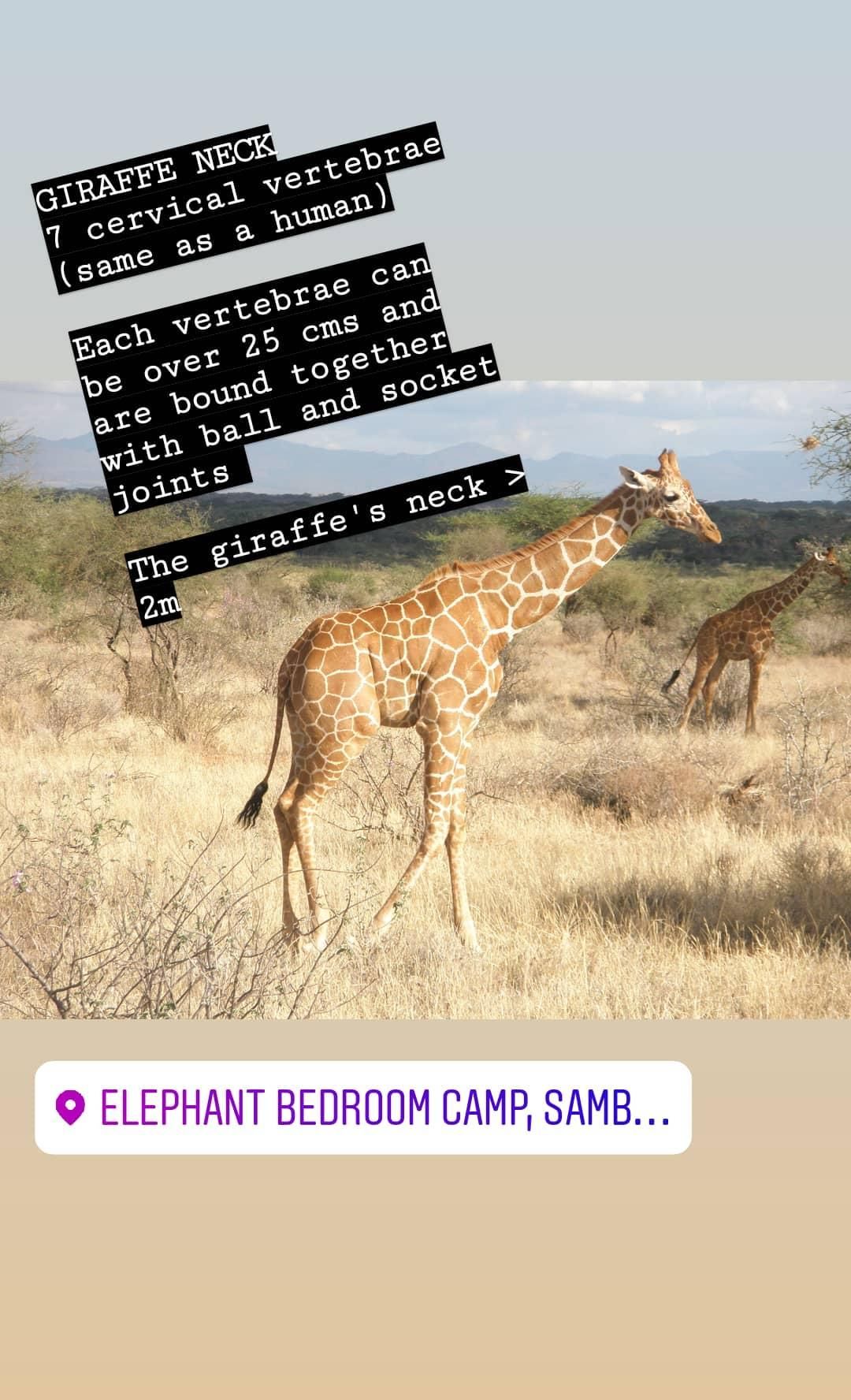 Pilates in the Park early evening
It's so lovely to be out in nature, with real people from our evening classes for our first evening version of Pilates in the Park. The trees right next to us were so beautiful, it was lovely to meet each other and the weather stayed perfect for us. What a great way of doing Pilates.
24 July 2020
An Israeli company claiming to have created a tiny micro-pancreas to 'cure' diabetes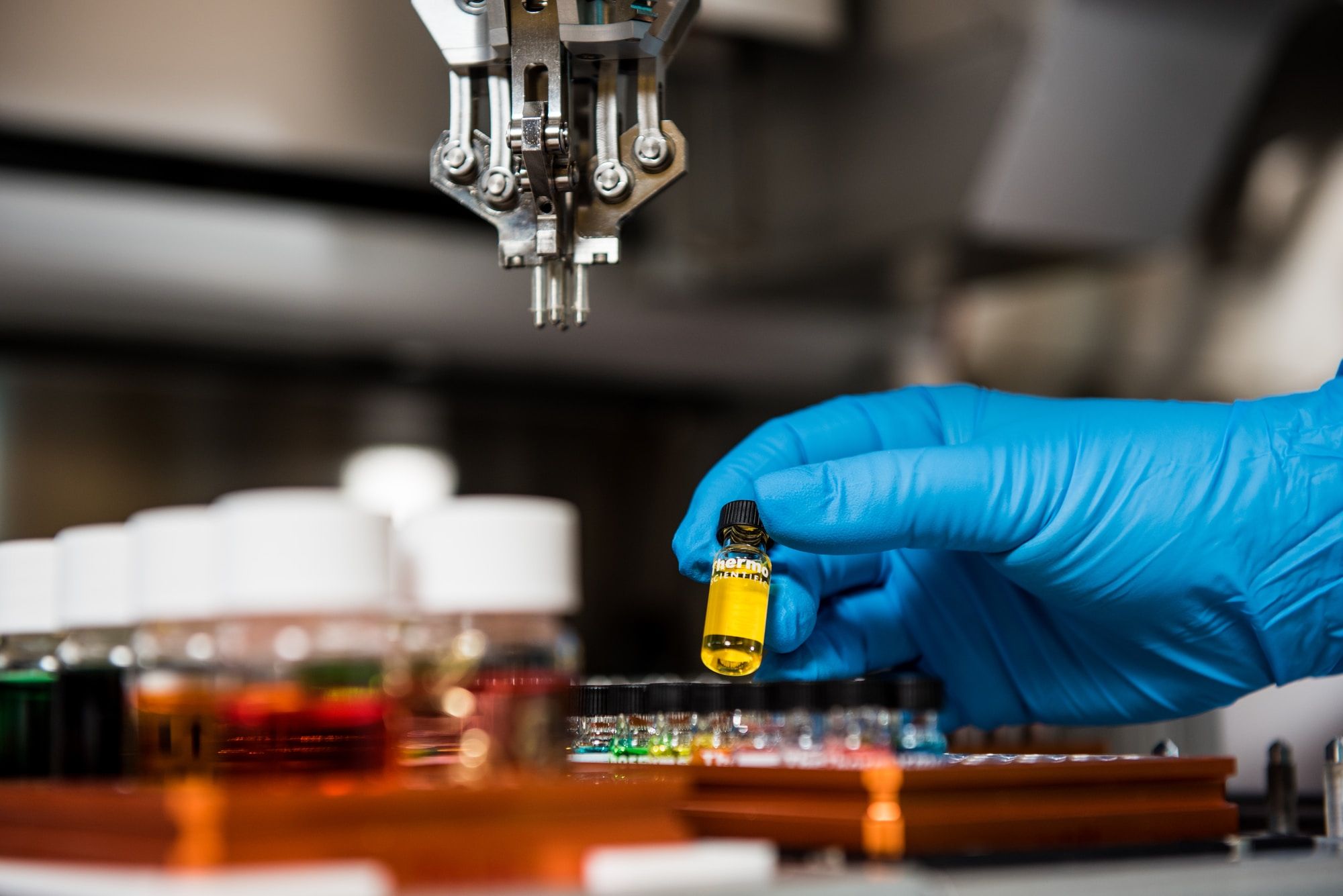 Pilates in the Park today
Exercise followed by a chat. So good to spend time with people. Another lovely Pilates session, in Highfield Park, on a beautiful sunny morning in a park with a great view.
26 June 2020
Please can you help with a survey?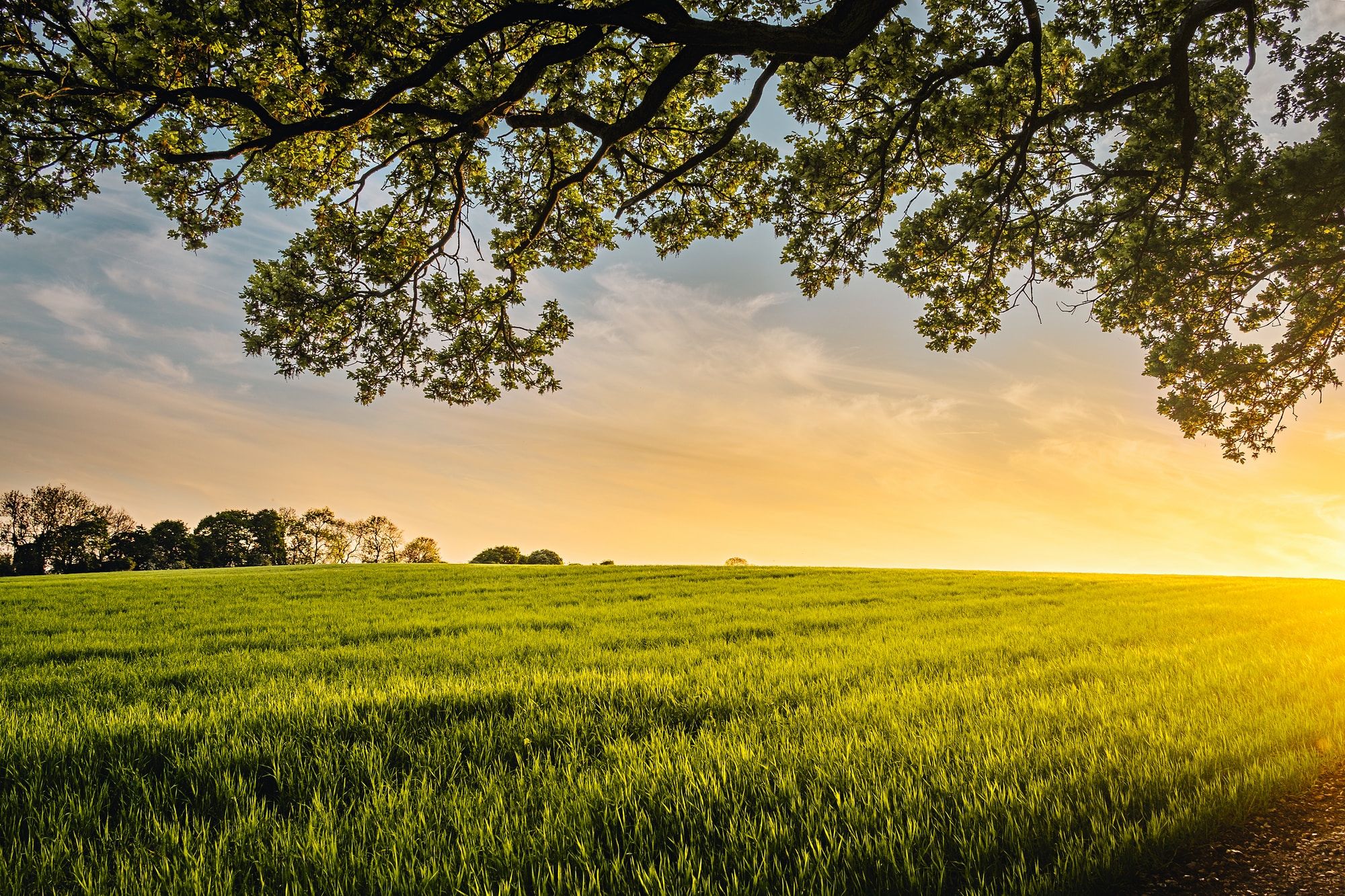 5 People, socially distanced, for Pilates in the Park!
Pilates with a View. So great to meet with 5 real people, for a Pilates 🧘‍♂️in the Park class, in the beautiful 🌹 rose garden at Highfield Park Trust
What a beautiful location for a 🏃 followed by an outside Pilates 🧘‍♂️ class. Metres of space between us, surrounded by the smell of roses 🌹 and with (mainly) blue sky ☀ above us.
Unbelievably this was our first time together since March 16th. We will definitely do Pilates in the Park again. So good to be together again.❤️
20 June 2020
Toiletries for local Women's Refuge
Please can you help? If you can donate any toiletries; shampoo, conditioner, shower gel, toothpaste, toothbrushes, deodorant etc. Also would appreciate; socks, toiletry bags, handcream, body lotion. Please drop off at: 11 Hedley Road AL1 5JL
Thank you so much!
13 June 2020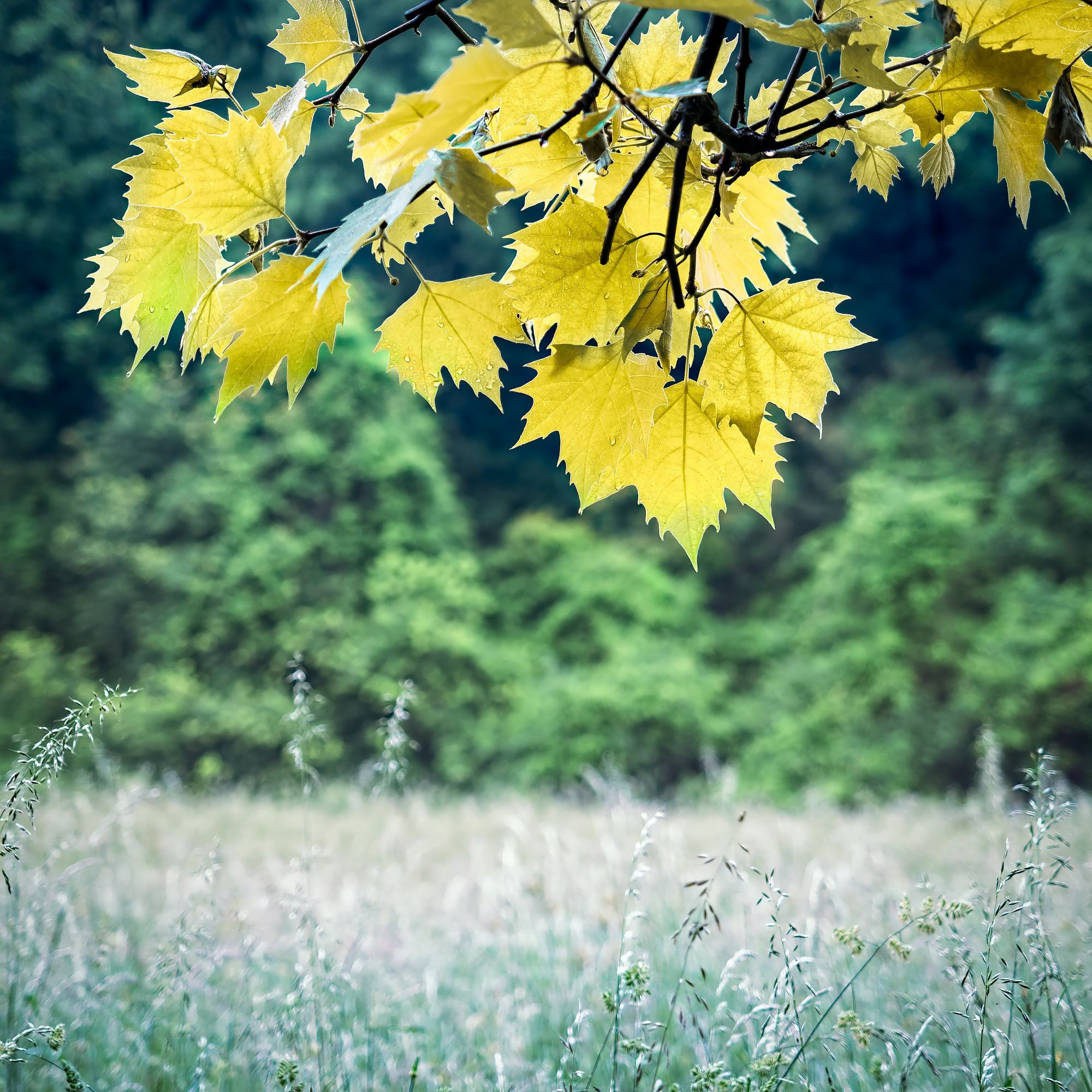 Try this.... Coffee Ice Cream
Whisk together, by hand; 300mls double cream, 175g condensed milk, 1 tablespoon Gold Blend and 1 tablespoon coffee liqueur. Mix just to soft peak. Freeze. If you can eat it when it's just soft, but not fully frozen it's bliss. Fully frozen is still fab.
21 May 2020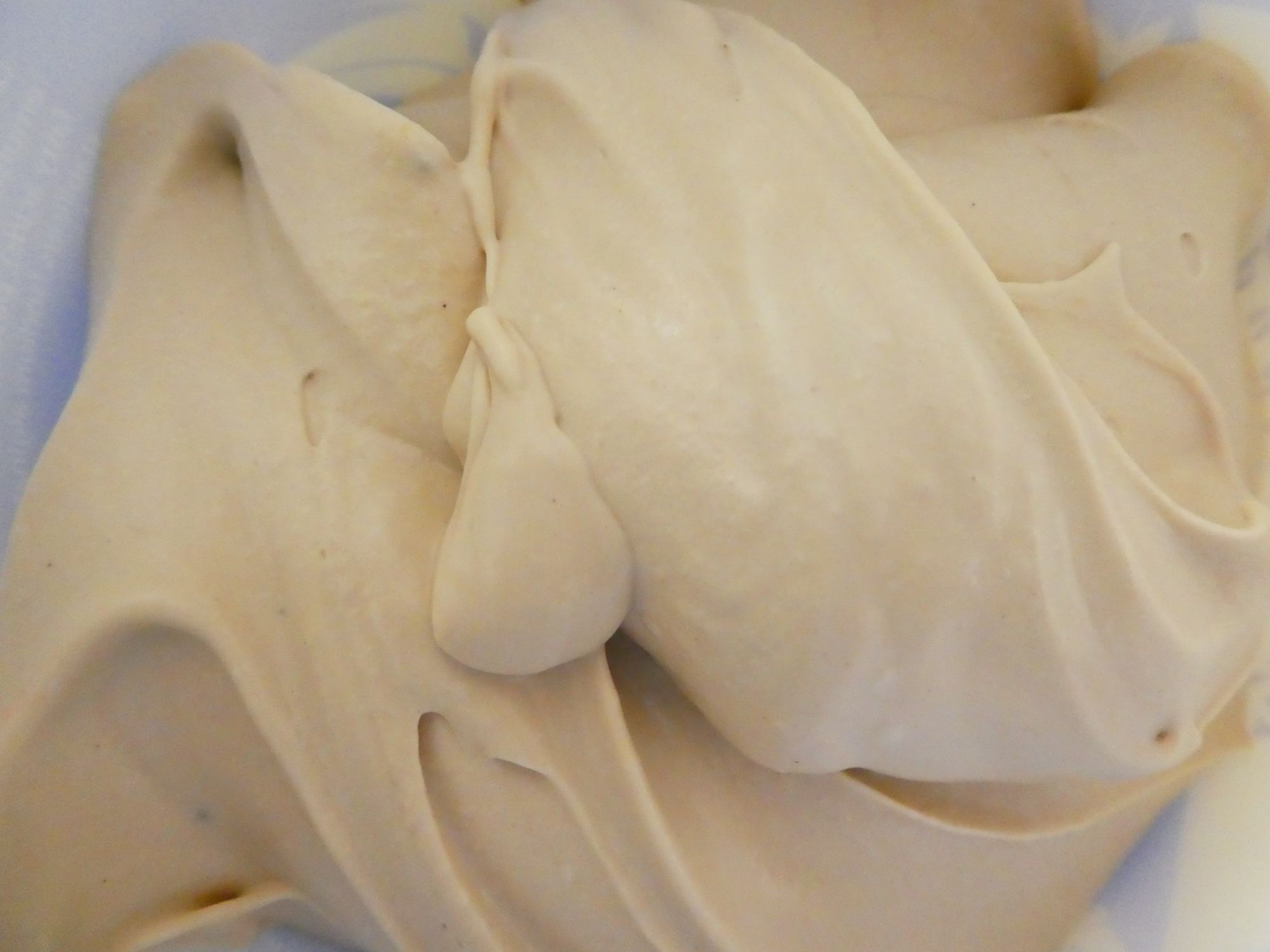 Standing Tall & So On Brand
Another week and it's news of another Pilates in St Albans Challenge. I am super-impressed at what people (and pets) will do to win a Pilates in St Albans Apron. Teddy has not only stepped up, but stood up to beat stiff t-shirt competition including ; Star Wars, the Spice Girls, Jurassic Park. He's wearing his favourite sports vest, standing tall, looking great, and so on brand. He's our winner of the T-shirt Challenge. Teddy wanted to take this opportunity to thank his family for helping him get where he is today. He also wanted to thank his fellow competitors who did a fabulous job entering with such quality t-shirts.

18 May 2020
What a morning! Some people couldn't hear, some couldn't see and I couldn't see or hear some of you. Sorrry if you couldn't get back in. At 10:16am today there were 2340 reports stating problems accessing Zoom meetings. It's week 9 of our online meetings and this is the first problem we have found but still very disappointing.
If anything like this occurs again, please look here for direction. Meawhile please update your Zoom when it next asks you.
17 May 2020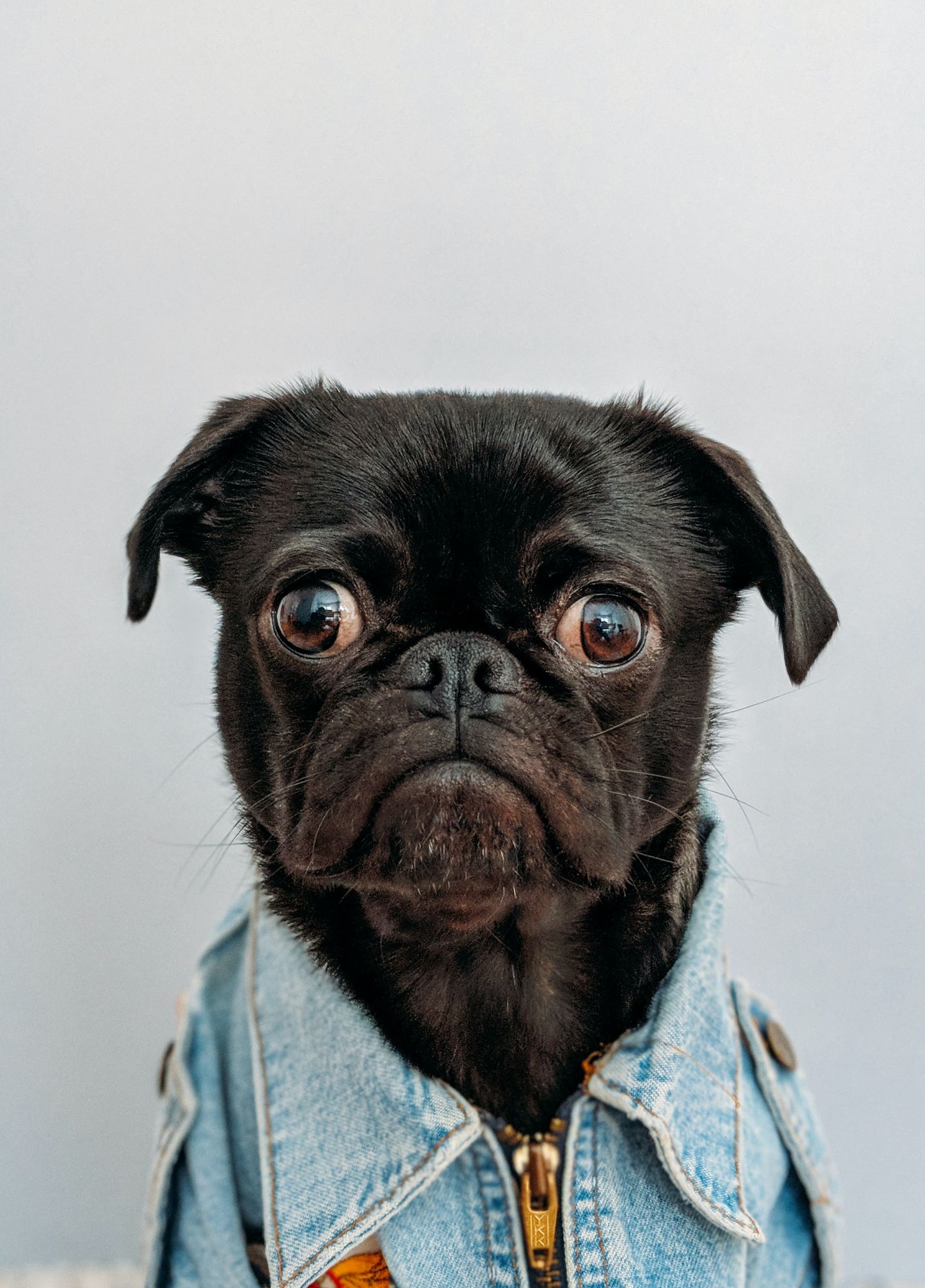 Gayle, Botham, Kate & Alex Blackwell, Warne, the Currans & Morgan
and what is the difference between a red and white ball. Important discussions during last night's Pilates class with Middlesex Women CCC. Really enjoy your ethusiasm and hard work.
13 May 2020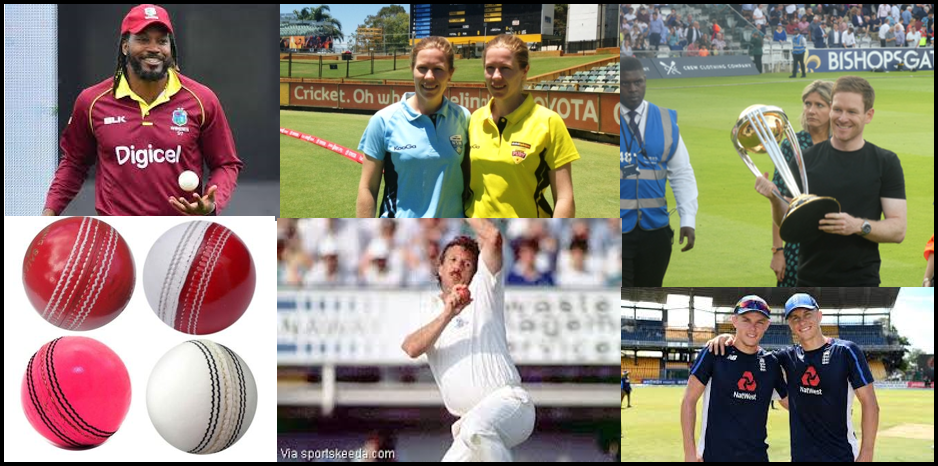 Come and paint a House Brick
Drop by Jody and the girls' 🏡 in Beaumont Avenue. Bring along your paints 🎨 and paint 🖌️ a brick and bring a donation for the food bank.
12 May 2020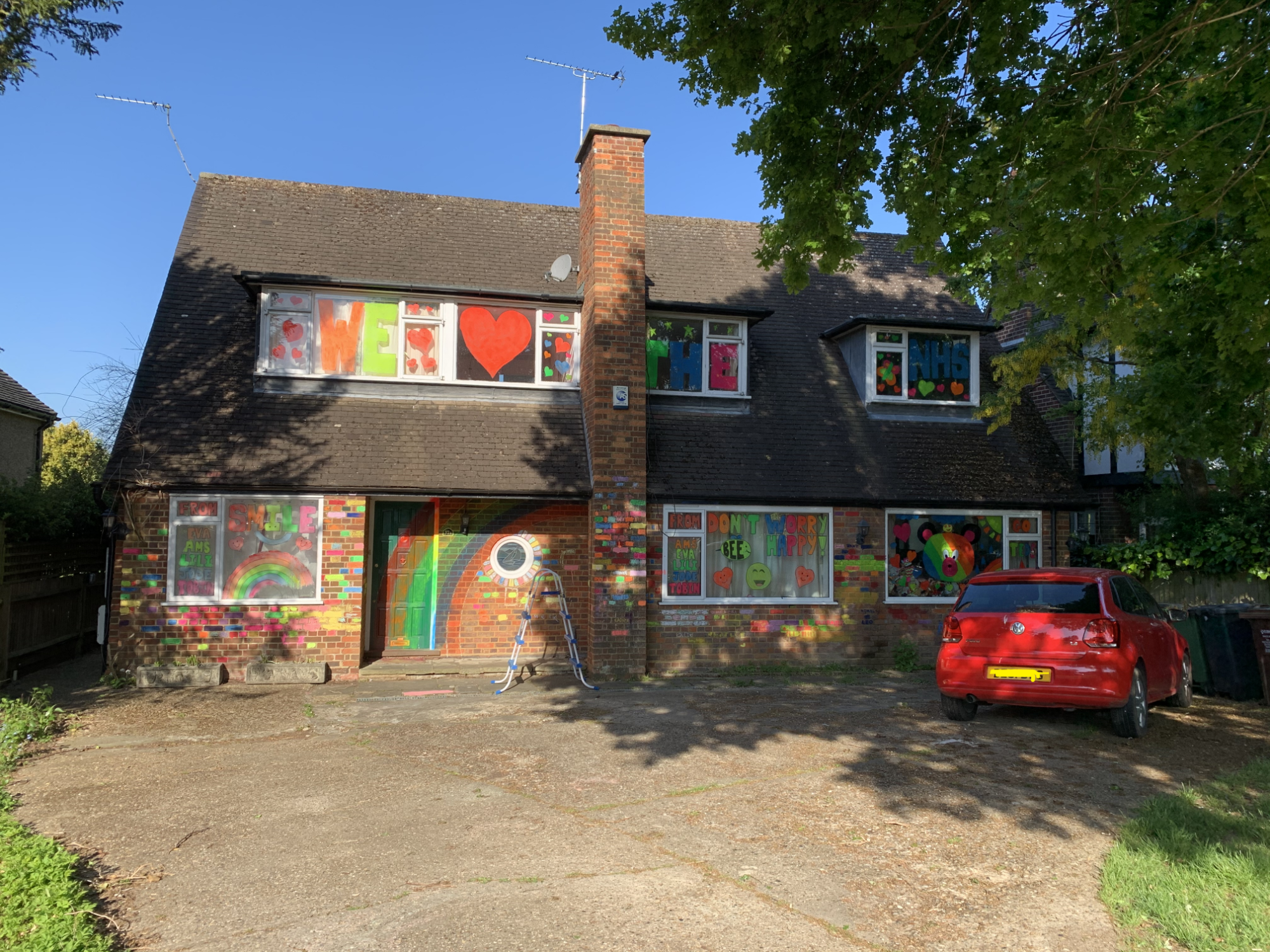 A Romp of Otters, A Mischief of Mice, A Parliament of Owls, A Prickle of Hedgehogs, A Peep of Chickens
It's been exciting, palpable, thrilling. It's been our mug challenge! I thought it was a fairly weak challenge - but I was wrong. We started strongly with; personalised crosswords, Gromit, historic St Albans maps, House of Commons mugs and some adorable pets. JP showed a few of us her Moorcroft's, which are stunning. Then YB introduced her first mug, A Romp of Otters. I do like cute animals, especially wildlife and I do like a collective noun. Then YB showed us ……A Peep of chickens, A Mischief of Mice, A Parliament of Owls, A Prickle of Hedgehogs. YB is this week's challenge winner and will receive a PiSA apron. Well played!
10 May 2020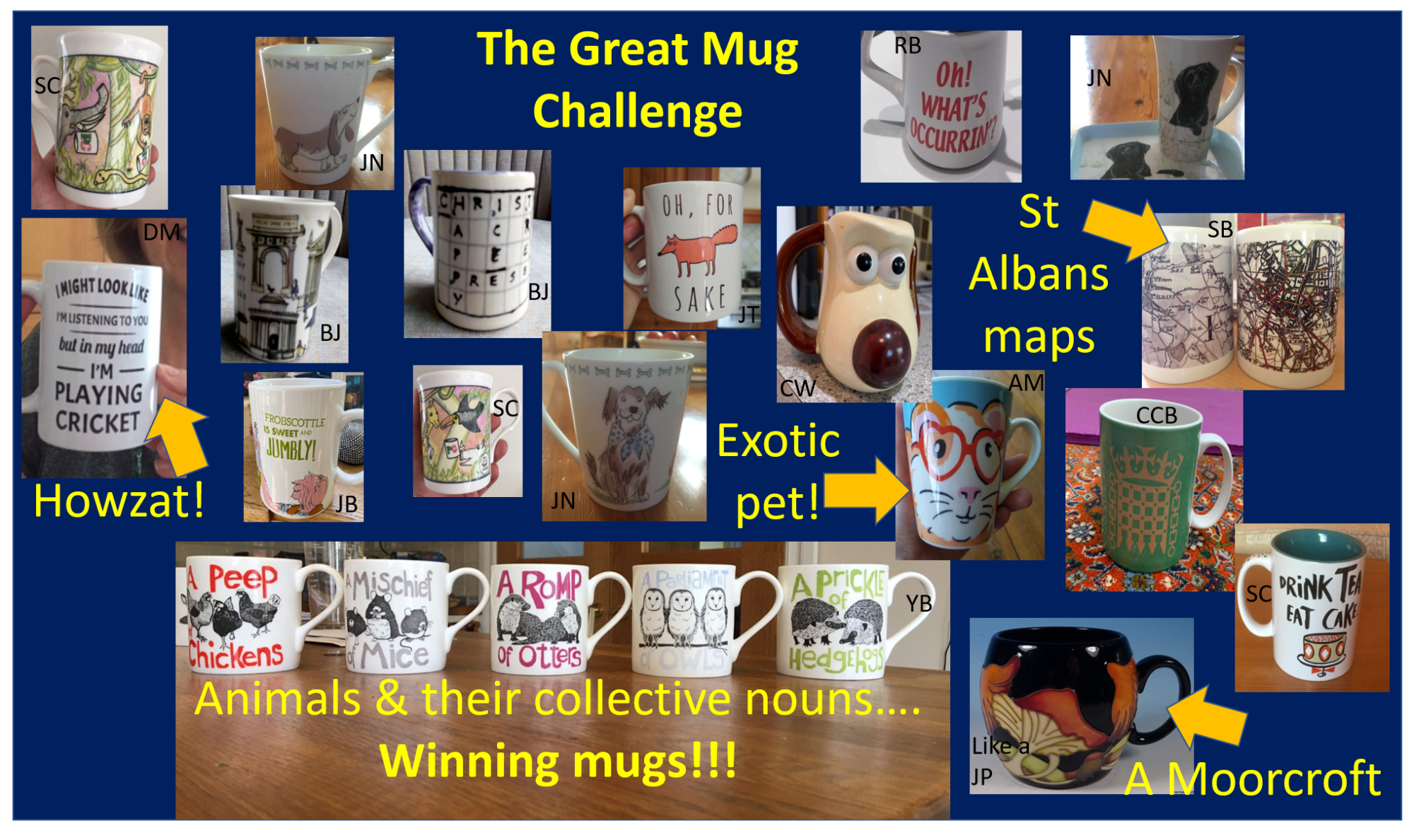 1st Middlesex CCC Womens online Pilates class
The writing room at Lord's would have been a great place for our Pilates class this morning, but instead we made do with our lounges, bedrooms and gardens. Great work from everybody, your Pilates skills are coming along really well. Good to meet the support team, your lovely pets!
1 May 2020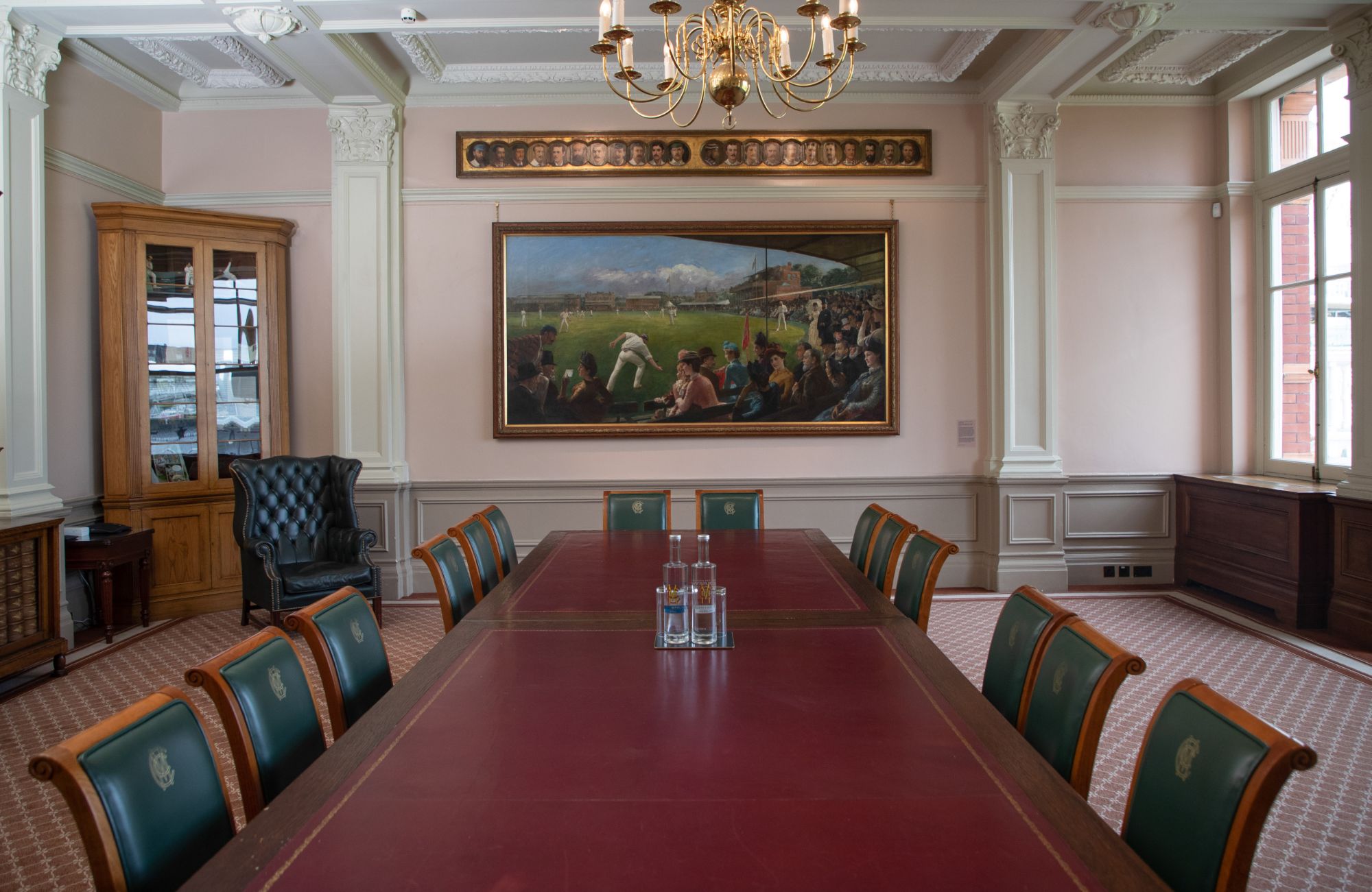 First Class Challenge - Kerri
Weight Challenge - Rob
Pet Challenge - Bramble, Dylan, Teddy, Oscar, Alfie, Misty, Florence, Ziggy, Leo, George, Bruce, Jessie and Dexter
PJs Challenge - Alana
Sock Challenge - Barbara

All of our winners will be receiving, a highly sought after, Pilates in St Albans Star Apron. 🏅🏆 Pet Challenge winners chose pet treats!
30 April 2020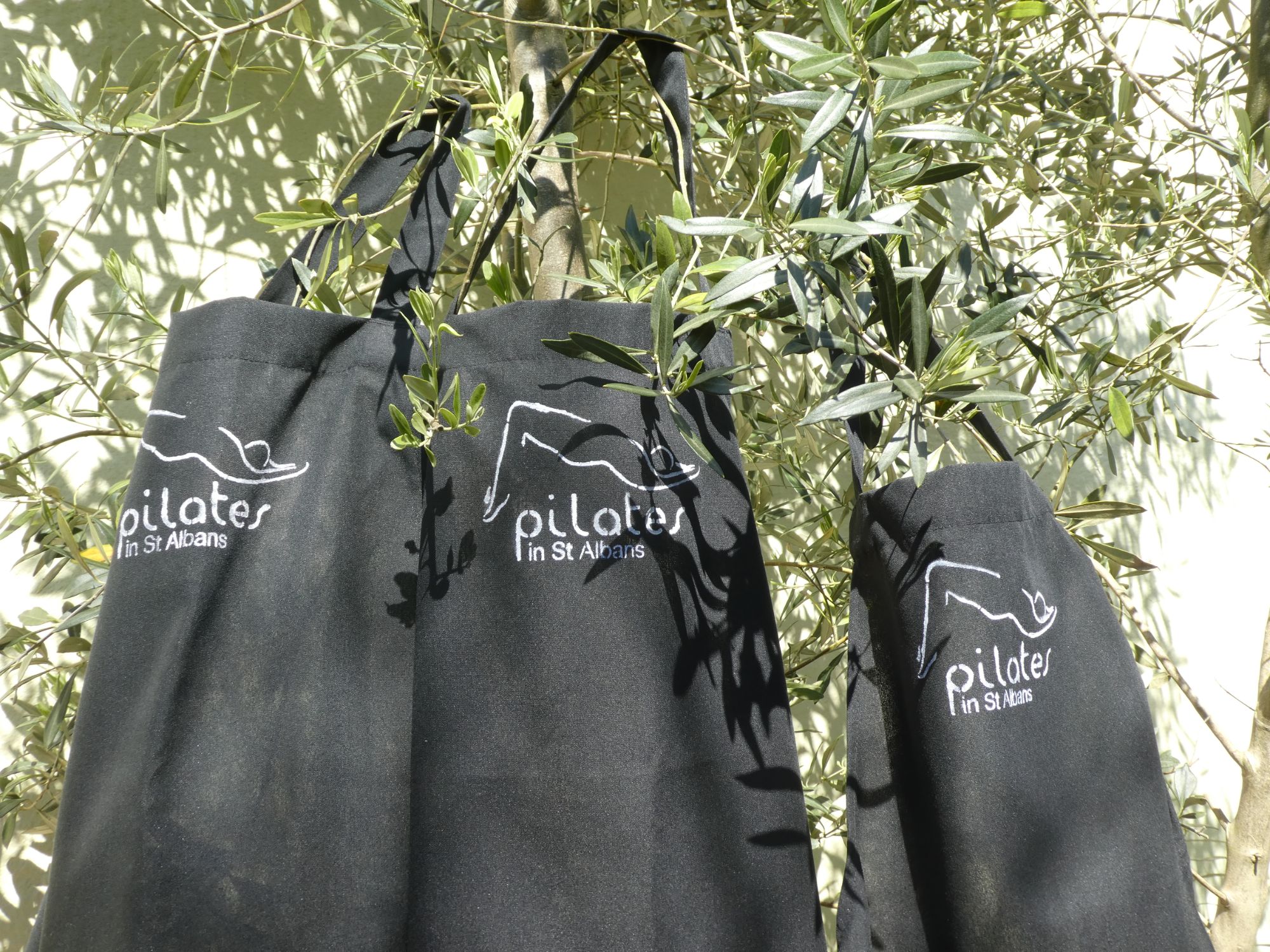 This week's challenge has been all about our PETS. It's the most anticipated challenge so far and the competition has been fierce. The pets have been beautiful, charismatic and funny and the quality of entrant has been so incredibly high.
After serious consideration, the committee has taken the unprecedented call to award this week's award to every single pet that has participated. Each will receive pet treats for their amazing efforts and continued participation in our Pilates classes.
They light up our sessions, and our hearts, and will continue to be welcomed and adored by the entire PiSA community.
18 April 2020
Next week's challenge is all about PETS
Next week the competition ramps up for the most anticipated challenge yet.
Is your pet charismatic, interesting and funny? Do they love Pilates or just love the camera?
Catch it on camera. The best pet wins this week's PiSA star apron.
Together we are fitter, stronger and healthier.
12 April 2020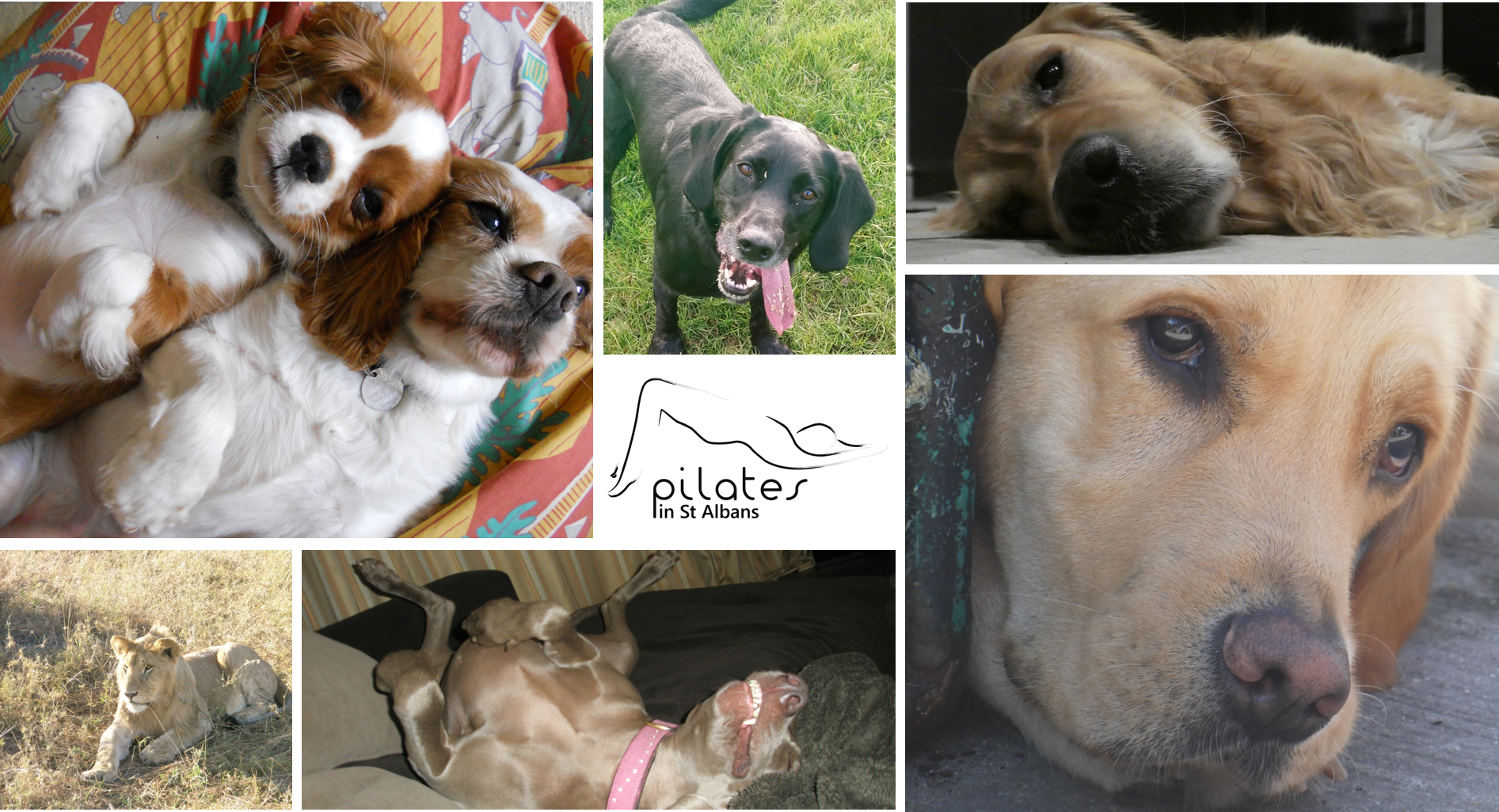 Challenge is on PiSA people!
The creative weights 💪 challenge was set.
The creative weights challenge was met.📸👌
Amazed by everybody who took part. 👋👋
Our winner will be receiving, a highly sought after, Pilates in St Albans Star Apron. 🏅🏆 Together we are fitter, stronger and healthier.
11 April 2020
"We have enjoyed some really creative weight choices this week. We've had bottles of champagne (good option Phil), bags of rice and even cricket bats (no guessing who chose those).
Adding pairs of weights (from 500g upwards), make such a difference to your arm/upper back exercises and to your core work.

Challenge is on PiSA people! Let's see what is the most creative weight of the week! Bring something interesting to class this coming week.
Together we are fitter, stronger and healthier". Ilana Xx

3 April 2020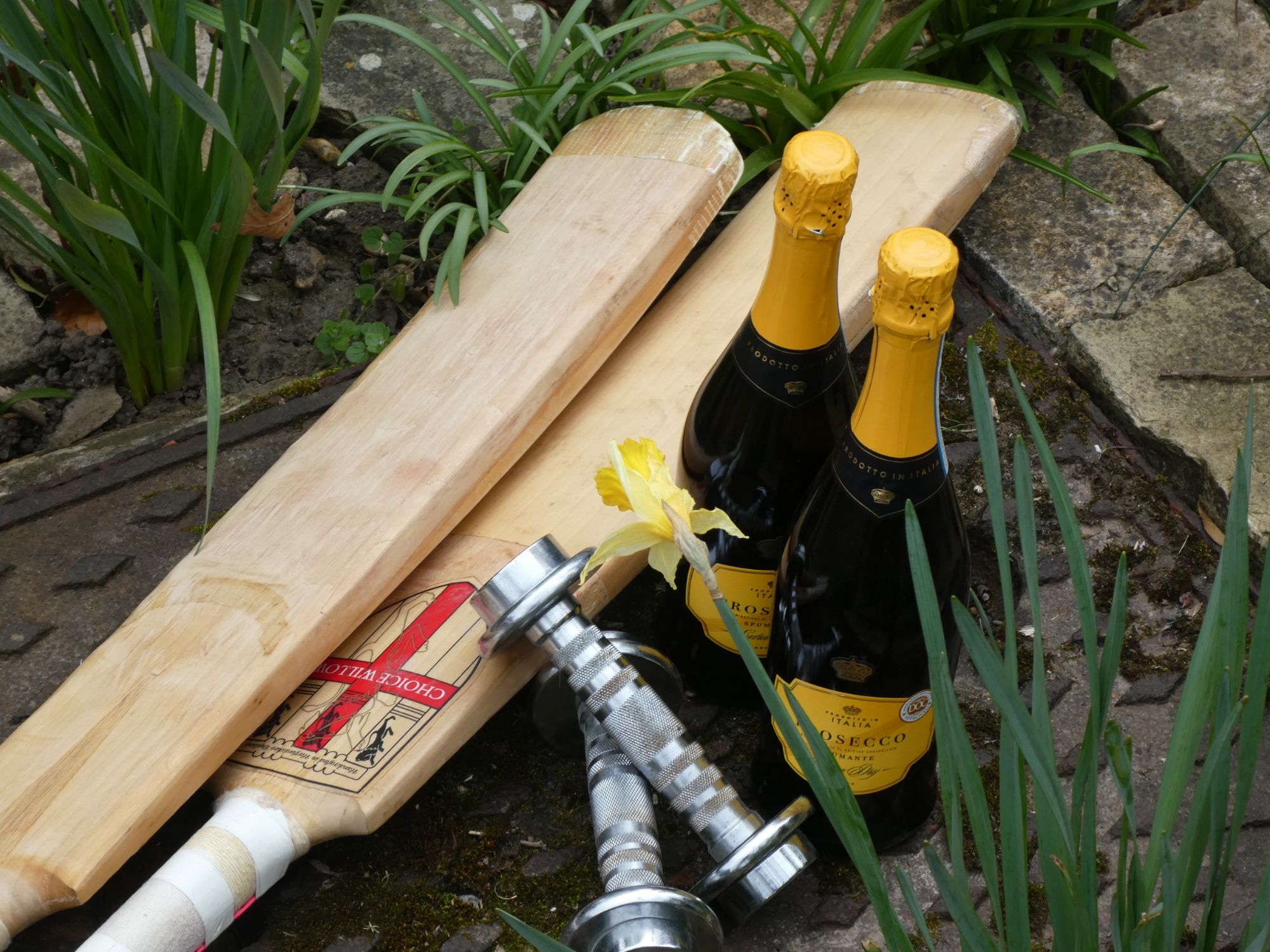 Lounge Edition goes live successfully
"This week we have held our first Pilates classes in our new format, the Lounge Edition. What a great turn out! So many of you have taken part, embracing the latest technology, family members have joined in and I've met some fabulous dogs and cats.
You can come to Pilates as many times, a week, as you want. If you haven't tried yet, you can book in on our website. Quite a few of you have already been amazing and increased your attendance to two and even three times a week. Look out for our surprise classes, which you can also attend, for no extra charge. Thank you for continuing to be a Pilates in St Albans customer. I couldn't do this without you! Together we are fitter, stronger and healthier". Ilana Xx

27 March 2020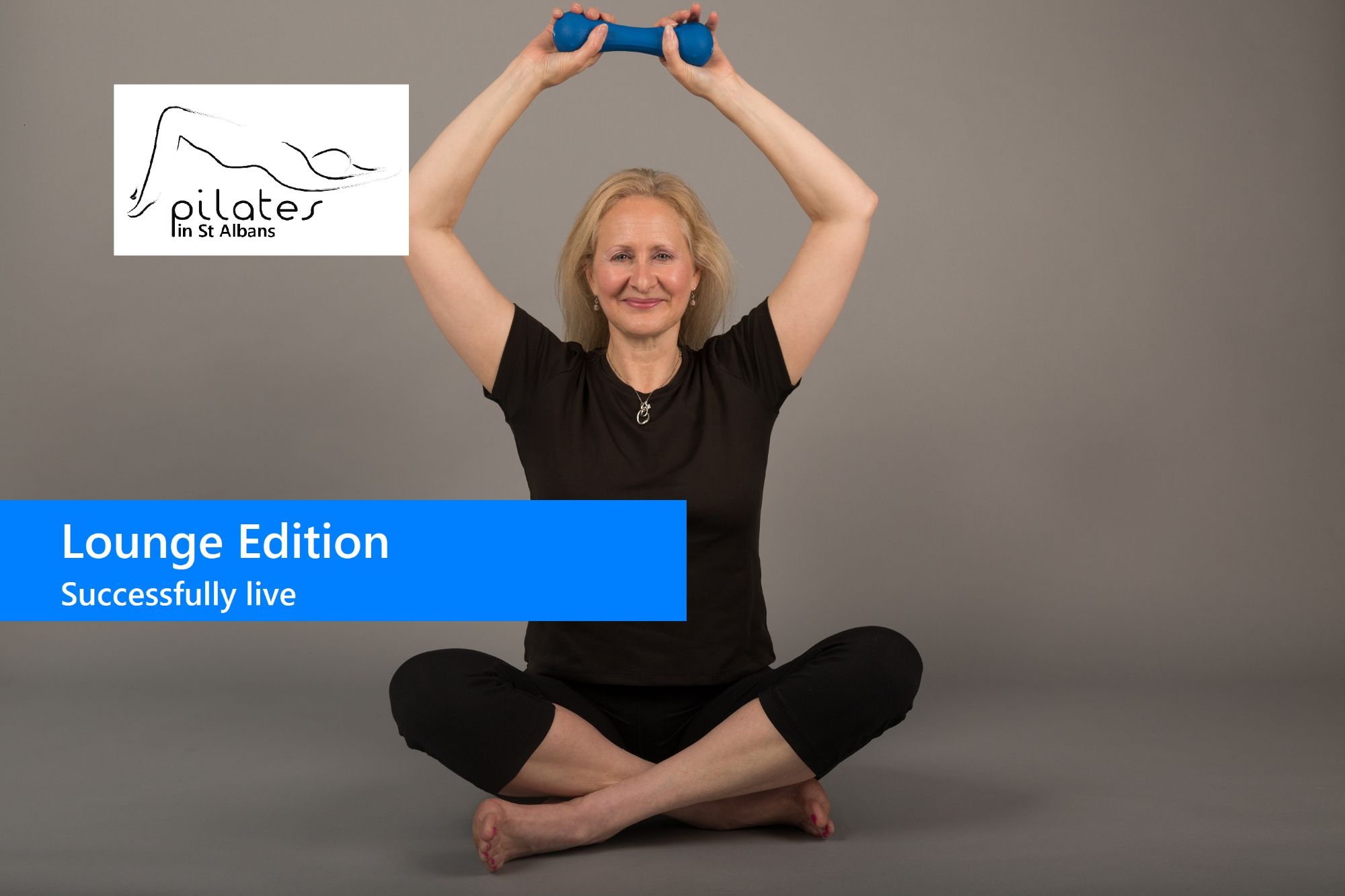 Proud to introduce to you our brand new, live Lounge Edition
"From Monday March 23 all of our classes will be live, interactive video conference Pilates meetings, accessed via your ipad/tablet or PC. I have put together some Q & A which hopefully will explain to you how it will all work. This is new for me but I think we can learn together and incorporate the same elements from our regular classes; Pilates, body and core strength and conditioning, motivation to exercise, humour, general interest 🐧, quiz questions and the people around you that you are used to exercising with.
After the class we can chat over a coffee ☕️ or glass of wine 🍷".
Keep fit, healthy and strong. 💪Keep on top of your Pilates

(Sadly not my lounge).

18 March 2020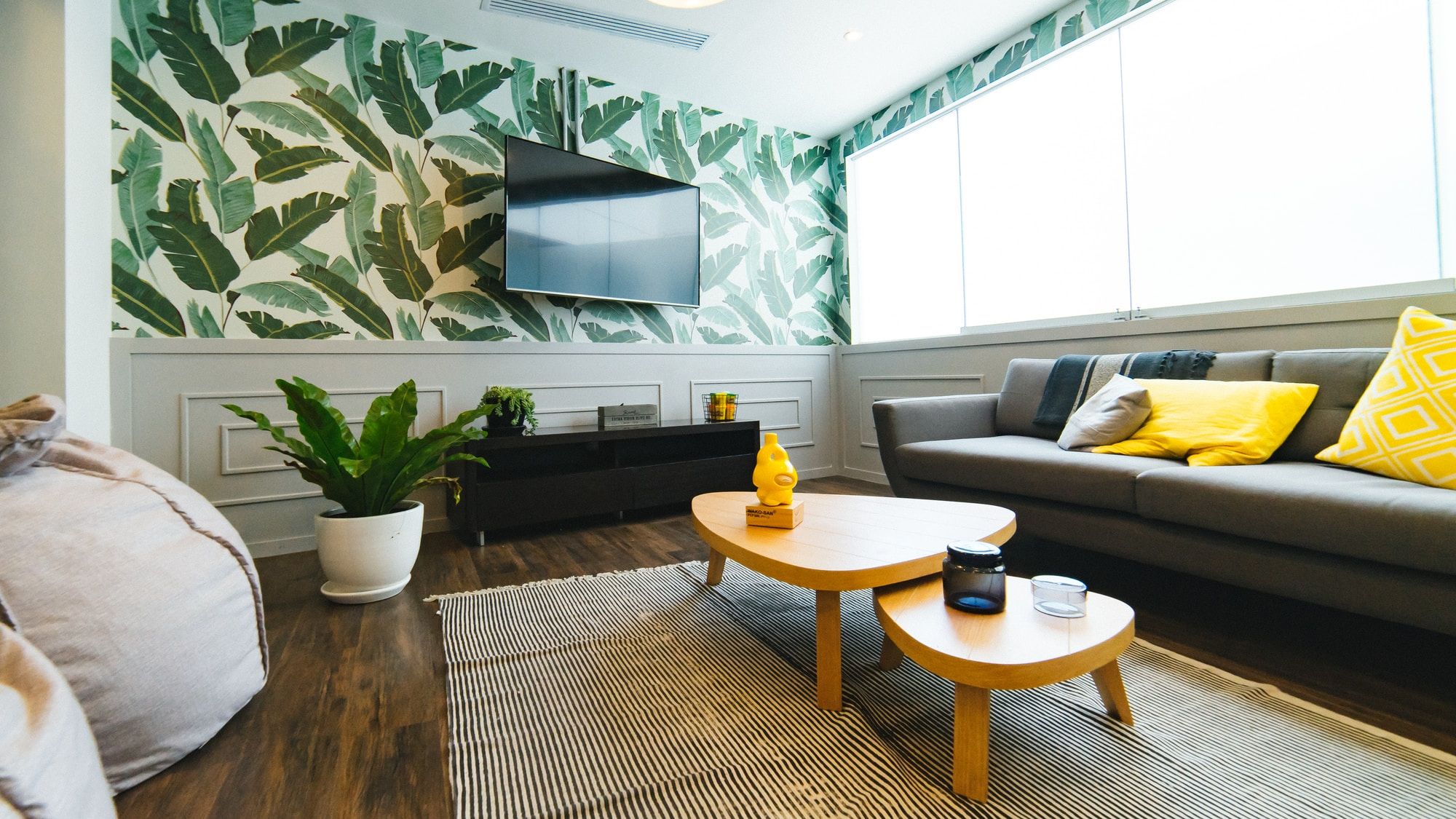 Look who got married today?
Congratulations to Karen & Simon who got married today! To many fabulous years ahead.
18 March 2020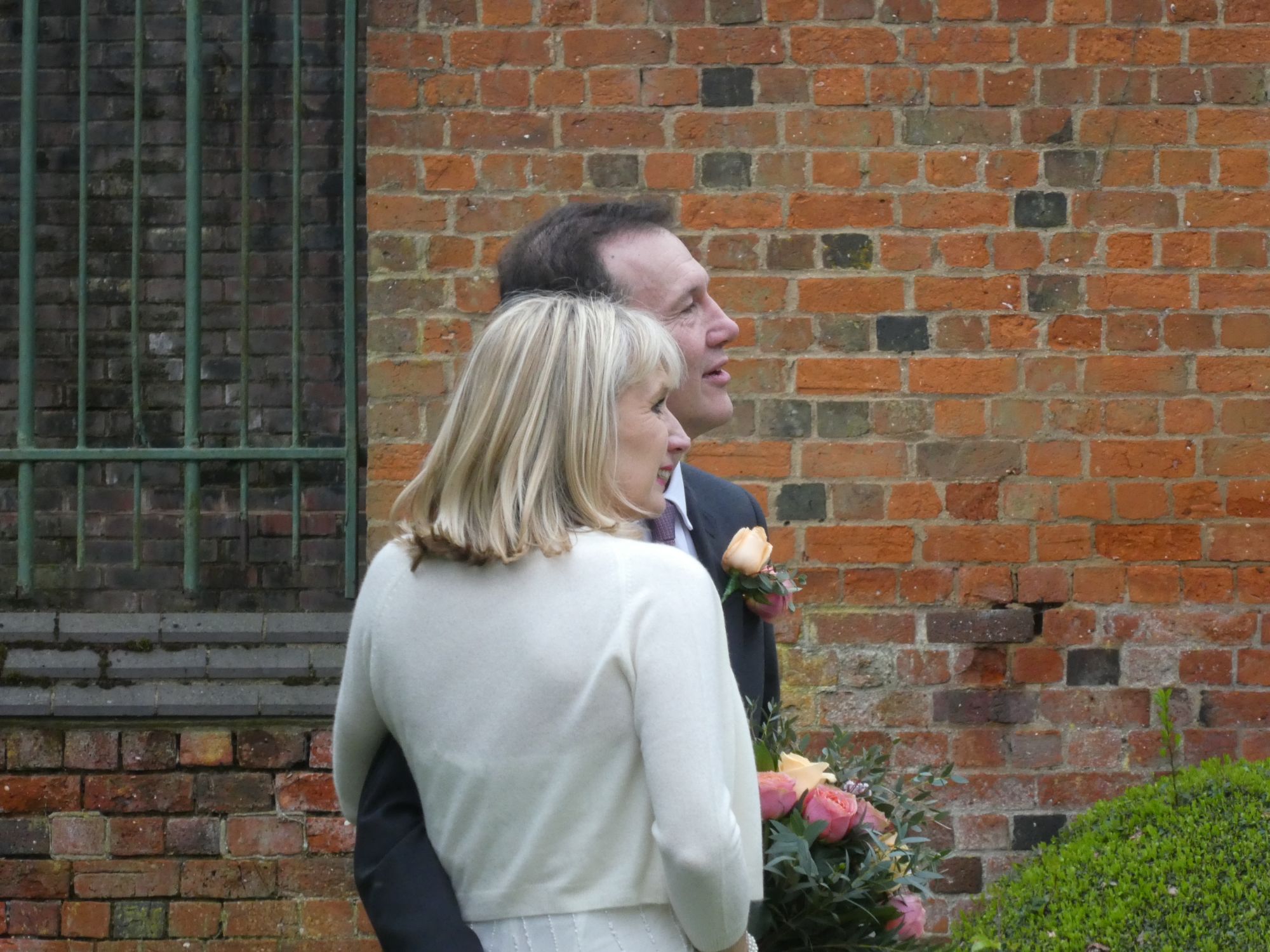 We @ did 43 lengths, you did £315!!! Thank you so much...
The Swimathon was a couple of weeks ago now. We each swam (on average) 43 lengths which meant Kerry, Eloise, Anne & Ol swam a lot more than that. They were awesome, keen, ethisiastic. The event was super-organised by the Rotary Club (Jenny is our contact). All money goes to Mind in Mid Herts. You kindly donated £315, just paid it in today. ❤️Thank you so much. ❤️
Great photography Dave!
18 March 2020
From Monday March 23, Pilates Classes are coming to your very own lounge!
Push back the chairs, roll out your own mat, in your own lounge, grab a coffee, invite the cat and join us all in our very own Pilates classes using web-based video meetings. Information on how to book, how to access your Pilates meeting, who can join in, how often you can attend, coming imminently!
(This is not my lounge, wish it was).
17 March 2020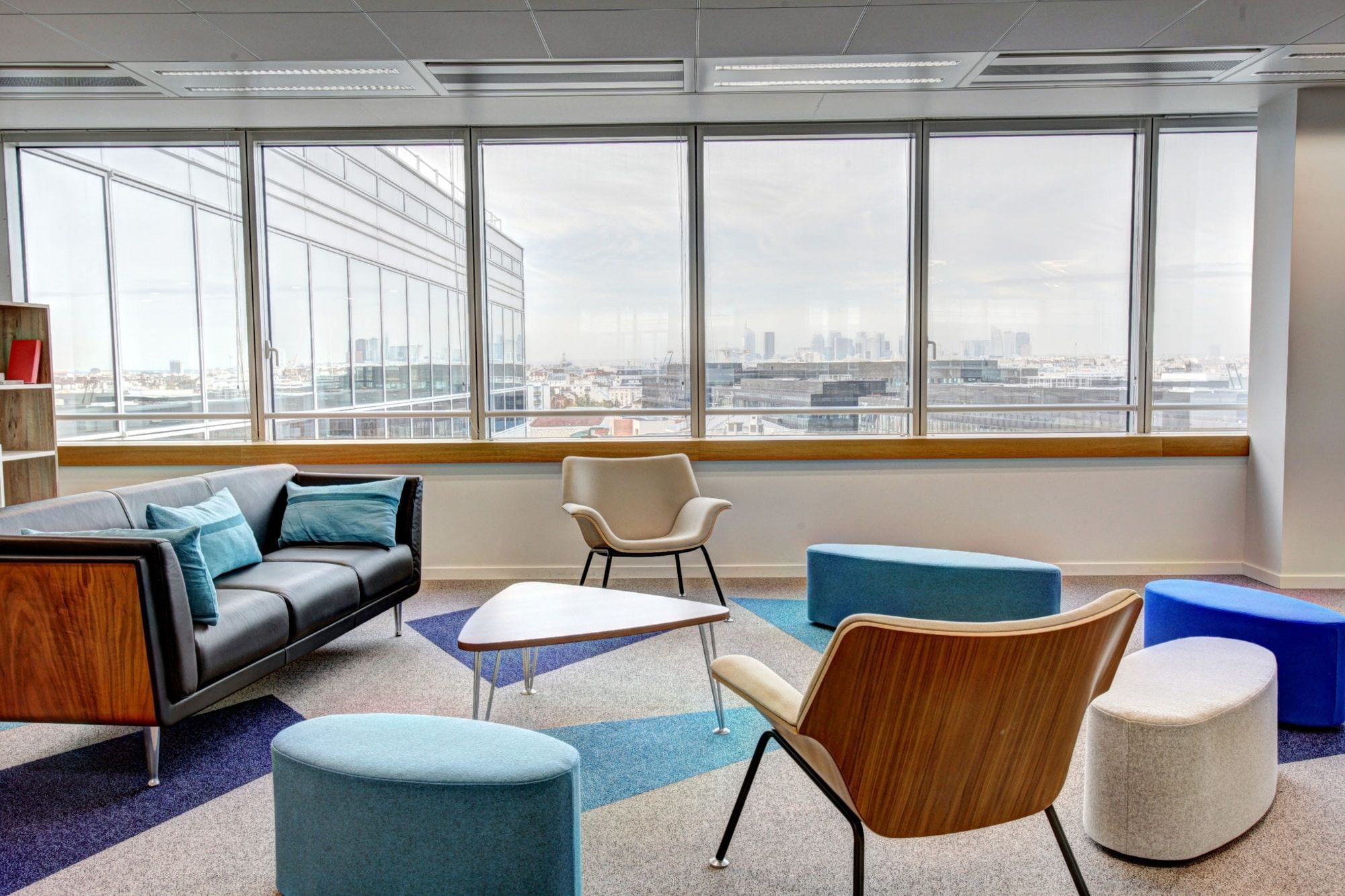 Classes for the rest of the week are CANCELLED
SORRY BUT ALL CLASSES FOR THE REST OF THE WEEK ARE CANCELLED.
17 March 2020